'Luke Cage' Showrunner Explains Why Mariah Doesn't "Flip the Basquiat"
A deleted scene in Season 2 would have revealed a deep family history with Basquiat's "Red Kings."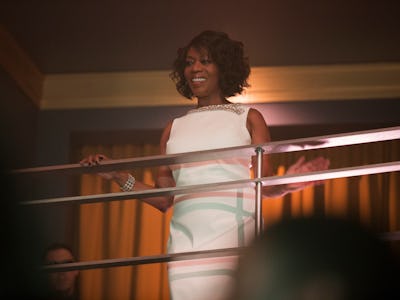 Netflix
Throughout Season 2 of Marvel's Luke Cage on Netflix, you'll hear from Mariah Dillard's minions, including Shades (Theo Rossi), advising her to "flip the Basquiat." By selling a priceless, actual painting owned by her family — "Red Kings," ""painted in 1981 by neo-expressionist Jean-Michel Basquiat — Mariah could solve all her financial woes. But Mariah refuses.
In an interview with Inverse, showrunner Cheo Hodari Coker explains why.
Minor spoilers for Luke Cage Season 2 ahead.
"Mariah understands the power of legacy and a family," Coker tells Inverse. "She's trying to hold onto that. But Shades is asking continuously through the season, 'Why hold the legacy of a family that you hate?'"
The characters of Marvel are fictional, but Jean-Michel Basquiat was real. Born in 1960 before dying at the age of 27, Basquiat was a celebrated African-American artist from New York who imbued his works with dichotomies: rich versus poor, integration versus segregation, internal versus external strife.
A deleted scene featuring Mariah and a new Harlem's Paradise hostess, Stephanie, would have revealed the Stokes' personal history with the painting.
"We decided not to use it," Coker says, "But there was a conversation where she was telling the story of that painting. Basquiat and Cornell's father, the drug addict we hear about but never met, were contemporaries, and that painting was a gift. That's what Mariah means by 'That painting is in my family.' That was painted for Cottonmouth's fathe. That's why they never sold it."
Coker agrees that flipping the Basquiat would have solved all of Mariah's problems, but the Basquiat is a family heirloom. "Shades is right, if that painting went to market, that would sell anywhere between $50-$150 million."
The showrunner says Basquiat "always had an influence" on Luke Cage. From the beginning, another Basquiat painting, 1982's "Charles the First," was meant to hang in Harlem's Paradise when Cottonmouth (Mahershala Ali) ran the joint in Season 1. "At the last minute, the rights fell out."
Coker didn't want to change Cottonmouth's now-famous "Everybody wants to be the king" speech. After some brainstorming, he arrived at Barron Claiborne's "King of New York," depicting rapper Biggie Smalls adorned with a crown taken three days before his death.
"That's why we wanted Basquiat to come up and be the painting in the office when Mariah controlled the club," Coker adds. "'Two Kings' features two crowns. We have a lot of moments we see both Shades and Mariah underneath."
"Basquiat is an artist. He was the first byproduct of the forces that created hip-hop, which makes Basquiat a hip-hop artist," Coker says. "He predated the expansion of hip-hop culture. The same way that, all of a sudden, Basquiat paintings that were ridiculed as glorified graffiti are now selling at the same Picasso's, is kind of what's happening with hip-hop."
Marvel's Luke Cage Season 2 is streaming now on Netflix.