Here's Everything That Happens at the End of'Luke Cage' Season 2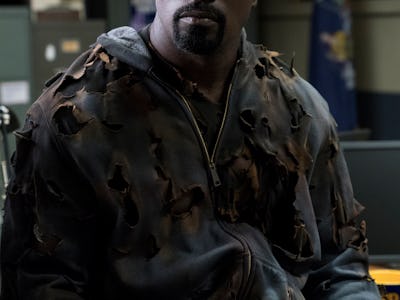 Netflix
The bulletproof Defender of the Marvel Cinematic Universe is back in Season 2 of Marvel's Luke Cage, but the final episode leaves a really uncertain future for the MCU. Maybe not as much as Thanos' snap in Avengers: Infinity War, but it's pretty darn apocalyptic, at least for the New York heroes.
So just what happened at the end of Luke Cage Season 2? Because it's such a shocker, let's recap the final moments and predict what might happen in the future of the MCU's New York City.
Major spoilers for Marvel's Luke Cage Season 2 ahead.
In the final episode of Luke Cage Season 2, Bushmaster (played by Mustafa Shakir) has escaped into the wind. But Mariah Stokes-Dillard (Alfre Woodard) is caught and arrested for her role in the "Rum-Punch Massacre" where she absolutely, definitely burned Bushmaster's entire family alive in their Jamaican restaurant. It was a really nasty one, folks.
Mariah is then sentenced to Riker's Island, where she quickly rises to the top of the women's prison. However, it's not long before Mariah gets her comeuppance, from who else but her own daughter, Tilda (Gabrielle Dennis). Using a special poison, Tilda kills her mother, leaving her to die in the arms of Luke Cage.
In her will, Mariah leaves Cottonmouth's keyboard to Tilda and gives Harlem's Paradise to Luke Cage. "The club, the deed, the name," Mariah's lawyer explains. Whether it's a gift from a friend, or the final insult from an arch-enemy, Luke reluctantly accepts the offer.
Hoping to use his abilities in a different way, Luke aims to intimidate Harlem's undying criminal networks directly. But it's not a popular decision from his biggest fan and self-proclaimed brand manager, D.W., leading D-Dub to kick Harlem's Hero out of Pop's Barbershop.
Exchanging his hoodie for a tailored suit, Luke now controls Harlem's Paradise. His friends — including Misty Knight (Simone Missick) — are now his enemies, and his enemies are now his army. This may very well pit Luke Cage against all of his allies, including the other Defenders. Following the awesome "Heroes for Hire" team-up with Danny Rand (Finn Jones), it seems unlikely if Danny would ever agree to work with Luke again, at least while he's calling all the shots.
Will Luke Cage bend Harlem to submission? Or will Harlem swallow Luke Cage alive? Time will tell in a third season, if that ever happens.
Marvel's Luke Cage Season 2 is streaming now on Netflix.