Tatiana Maslany Wins Big in Emmy Noms
And some other preliminary thoughts on the new Emmy nominations.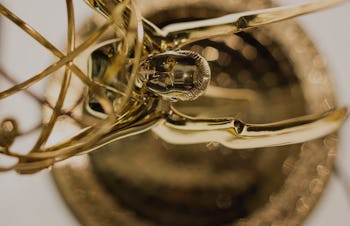 References to 'snubs' and 'should haves' are rampant on Twitter this morning following the announcement of the 67th Primetime Emmy Awards nominations. As is the case every year, there's a handful of worthy contenders who have been ignored and some have scored some long-deserved recognition.
The nominees for Outstanding Drama Series bear the fruit of the Television Academy's decision to amend the rules governing what differentiates a drama from a comedy. Orange Is The New Black, which previously entered the race in the latter category, is now battling against major dramatic heavy-hitters as comedies are eligible if they run at 30 minutes or less, while dramas must hit roughly the 60 minute mark. The Netflix dramedy must now square off against the likes of Mad Men, House of Cards, Homeland and Game Of Thrones. That's tantamount to pitting David against about 20 Goliaths - it's unlikely to win.
With the Litchfield ladies now hashing it out in a new awards domain, several critically-acclaimed dramas have suffered. The Americans, Empire and Justified, all massive hits, failed to receive nominations in that category. However, as the TV Academy tends to dole out statuettes to shows that have ended their runs, Mad Men is a strong frontrunner to take home the gold. And, with its leading man Jon Hamm nominated for the eighth time for his turn as Don Draper, this could be the year he actually wins. He's up against Jeff Daniels, whose performance as Will McAvoy in The Newsroom also came to a close this year, Kevin Spacey, Liev Schreiber, Bob Odenkirk and Kyle Chandler. The latter was superb in Netflix's Bloodline, but he could easily be looked over in favor of the phenomenally deranged performance by Ben Mendelsohn as his brother Danny. Surprisingly, he's nominated for Outstanding Supporting Actor, where his only real competition is House of Cards' Michael Kelly. Either way, Bloodline's appearance in multiple categories is a real surprise.
While the Academy's appreciation of Bloodeline was unexpected, it wasn't as surprising as the long-awaited recognition for Orphan Black's Tatiana Maslany. Scan down the list of Emmy nominees and her name is the only one accompanied by six characters. Her annual snubbing has finally been rectified, and if it weren't for the inclusion of Elisabeth Moss for Mad Men, this would be a done deal.
The remainder of the big categories spout the usual entrants. Game of Thrones boasts the most nods. After a lacklustre season Modern Family managed to receive its millionth nomination for Outstanding Comedy Series (but Unbreakable Kimmy Schmidt sneaked in and needs to steal its crown). Downton Abbey also has its allotted annual noms. As expected, certain genre fare is completely ignored. Despite the fact that it's one of the biggest TV shows in the world, The Walking Dead failed to gain any nominations. Put it up against another genre contender Game of Thrones, and this survivalist horror drama simply switches out Thrones' fantasy tropes (dragons, mail armor, flagrant sexism) for ones grounded in horror. It's a total disservice to the celebrated work of actors like Andrew Lincoln and Melissa McBride. Likewise for the cast and crew of Daredevil.
Vent your frustrations at the TV on September 20th when the Emmy Awards rolls out live.