'Rick and Morty' Season 4 Could Come Way Sooner Than Expected
If not, then at least Season 5 will come much sooner after that.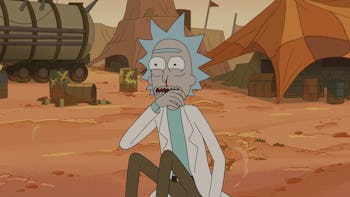 Adult Swim
We've all been dreading how long it'll take before Rick and Morty Season 4 finally debuts. After all, the gap between each of the previous seasons was incredibly long, and considering how long it took for Season 4 to be officially renewed, it seemed all but certain that we'd wait years for the new season. But now there's hope it might happen quicker.
In an interview with Polygon published on Thursday, Rick and Morty co-creator Justin Roiland revealed that with the 70-episode renewal, the gaps between seasons should shrink considerably. So production on the next 5-7 seasons could get streamlined.
"We want the episodes to stay good, but we do also want to try to turn them around a little quicker now that we have this big order," Roiland said. "I think it gives us the ability to be faster. We're not going to do these long breaks, these chasms in between seasons anymore. We're going to schedule vacation time and just keep the machine going. It's going to be really cool."
"We're super excited that, for the first time ever, we're locked in, we know what the future is, we have job security," Roiland said, speaking on behalf of himself and fellow co-creator Dan Harmon.
Roiland recently debuted the trailer for his new video game at E3 2018 called Trover Saves the Universe, developed by his studio Squanch Games. Despite that, Roiland also talked about how they're already fast at work on the show: "Even just being in the writers room for half the day every day this week, the ideas are … it's going to be great."
At this point, the show's writers are likely brainstorming ideas and mapping out the season. Historically, the process of writing, drawing, voice-acting, and editing can be quite time-consuming for Rick and Morty. But things are thankfully starting to change.
We couldn't possibly speculate on when Season 4 might premiere, but this news has us hopeful that it might be way sooner than we previously thought.
Read This: "'Rick and Morty' Season 4 Needs to Revisit These 11 Plots and Characters"