iOS 12 Features That We're Most Excited About and How to Get Access to Beta
Get the update before any of your friends.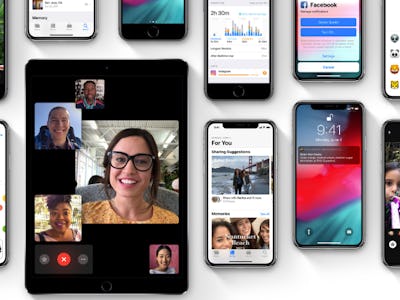 Apple
Apple's recent iOS 11.4 update will only hold users over for so long. After this year's Worldwide Developers Conference didn't come through with any new hardware, Apple fans across the web are eagerly awaiting the heralded iOS 12.
During the first day of the conference, Craig Federighi, the company's senior vice president of software engineering gave an overview of what we can expect from the major update. Since then, Apple has been publishing blog posts giving us an in-depth look at the apps and features that they'll be unleashing onto our iPhones and iPads this fall.
Here's everything that will roll out with this much anticipated software bundle and how to make sure you get the beta before all of your friends.
iOS 12: Sign Up For the Beta
If you want to be one of the first few people to test out the iOS 12 beta you'll need to join Apple's Developer Program. This comes at a cost of $99 a year, but you will be able to play around with this software update before any of your friends ever get a chance to.
You'll need to enroll in the program using your Apple ID. This will prompt you to create a Dev account, which you'll use to sign into the iOS Dev Center.
You'll then need to register your device's UDID, which you can find by plugging your device into a computer. Navigate to the Summary tab, click on the Serial Number entry and get it to change to the UDID. Once you're registered you should have access to the beta upon its release.
Just remember this is early version of the software, which will likely have some bugs. That's the whole point of offering beta. So be sure to back up an earlier version of your iPhone to be safe
iOS 12: Apple Books
Say goodbye to iBooks and hello to Apple Books. This completely revamped app will put an almost endless library of books and audiobooks right at your fingertips with a sleek new design. Audiobooks will, for the first time, have their own dedicated menu tab for those of you who enjoy kicking back and having Game of Thrones read to you.
The Reading Now tab will house all of the literature you're currently enjoying and it will also be the place where you can find other books you might enjoy. You can also catalog all of the series you've read through in this menu, as well as keep a wishlist of books you've heard about.
So don't worry about packing the whole Lord of the Rings series during a road trip, you'll have them all neatly organized in the palm of your hands.
iOS 12: Privacy Is Paramount
The Facebook Cambridge Analytica scandal shined a spotlight on internet privacy. Apple's iOS 12 will offer built-in encryption and detailed privacy options to ensure you're sharing what you want to be sharing.
Safari will also block third-party widgets on certain websites from tracking without permission and a pop-up will appear whenever applications like this are detected.
On top of that, the web browser will keep advertisers from gathering your your device's unique characteristics, so they can't pinpoint you and put the same ad in your face over and over again.
iOS 12: AR Everything
The brand new ARKit 2 will allow anyone to customize augmented reality objects to make some sweet art on your Camera app or send messages with interactive AR stickers attached.
Besides just letting you flex your artistic skills, iOS 12 will also let you measure real-world objects just by point your camera at them. No need to breakout the measuring tape any more, your iPhone has you covered.
iOS 12: Speed Up Your Phone
We've all had it happen to us at least once. You download the latest iOS beta and your phone seems slower than it ever was before. iOS is promising to change that.
Instead of slamming the breaks on how fast apps open, this fall's upcoming software update might even make your ancient iPhone 5S run faster. If this proves to be true your camera will launch faster, your keyboard will be more responsive, and you'll have a smoother experience overall.
Finally, you won't have to awkwardly wait to take a selfie while your camera is struggling to boot up.
iOS 12: It's a FaceTime Party
You will pretty much be able to have a business meeting or hang out with your group of friends over FaceTime now. Previous iOS iterations limited the FaceTime feature to only two people, in the fall you'll be able to host a Group FaceTime conversation with up to 32 people at once.
Whether you'll be able to hear them speak is another question. But for reuniting with the more soft-speaking members of your study abroad class, it should be just what the doctor ordered.