Tesla Model 3 Production Will Be Unaffected By Layoffs — Here's Why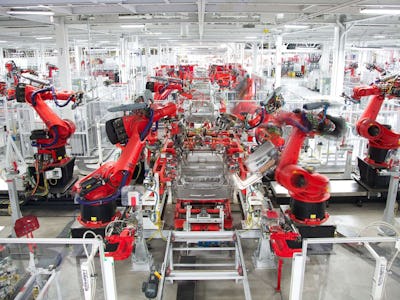 Tesla
Tuesday was a downer of a day for Tesla. Although the company's stock climbed all day, Tesla CEO Elon Musk made the announcement of layoffs coming to the electric carmaker.
Musk tweeted about the layoffs after it was first reported by The Wall Street Journal. In his tweet was the full email he sent to employees and his comment about how this decision was "difficult, but necessary." With the layoffs, there are some questions about what's going on with Tesla, especially since it was just a week ago when shareholders voted to keep Musk as the CEO.
Who's Being Let Go?
About 9 percent, or 3,500 employees, will be let go from Tesla. In his memo, Musk said those let go are mainly salary positions. He also added that because the company grew so rapidly there were duplications of roles and job functions so the layoffs would be a way to "reduce costs and become profitable." No employees on the production line were laid off and for good reason.
What About the Model 3?
Musk mentioned how important the production of the Model 3 was in his memo. In it, he said the layoffs will not affect Tesla's ability to meet the production goals. That goal is 5,000 Model 3 produced per week. Reaching that goal has been a strain on Musk in past months, but during the shareholder meeting last week, he said the company will reach the goal by the end of June.
What's Next?
For Tesla, getting the Model 3 numbers up is everything right now. It does have the plans for the Tesla Roader and what will be a sick SpaceX option for it, but the Model 3 is key right now. Those who pre-ordered the car have been waiting for months and only by bringing these production numbers will those people patiently waiting to get their hands the car.
Once the Model 3 numbers are up to par, not only can Musk and Tesla employees breathe a sigh of relief, he can also finally appear on the Joe Rogan Experience.