Tesla Solar Interest Is Surging, and It Could Change Hurricane Season
EnergySage has seen a spike in interest.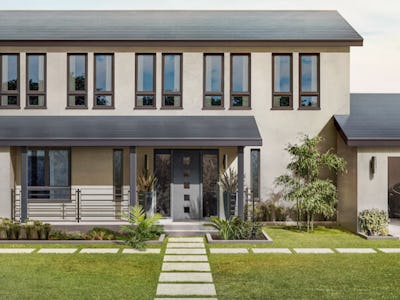 Interest in Tesla solar technology is surging as hurricane season approaches, a major price comparison website exclusively tells Inverse, as interest in the wider industry experiences a spike. EnergySage, which helps consumers compare solar quotes from installers, has seen a spike in visitors from Puerto Rico and the southern United States over the past two months. Solar plus storage setups are an attractive solution for hurricane-hit regions as they don't depend on the electricity grid to keep the lights on.
"For our Tesla roof content, we've seen anywhere from 10 percent growth to 45 percent," Nick Liberati, communications manager at EnergySage, tells Inverse, with big spikes coming from California, Florida and Texas. "I believe installs of the Tesla solar roof are only going up in California at the moment."
Tesla CEO Elon Musk revealed earlier this month that the company is in the process of undertaking approximately 11,000 projects in Puerto Rico, after governor Ricardo Rossello asked Musk last year to make island recovery his "flagship project." EnergySage saw a surge of interest in October 2017, after hurricanes like Maria, Irma and Harvey devastated the area surrounding the Gulf of Mexico.
How Solar Power Can Help You Weather Hurricane Season
With the Atlantic hurricane season starting this month and ramping up through August, EnergySage users may already be taking pre-emptive measures. Visitors to the website from Florida and Texas spiked 23 percent from the window between February and March and the window April and May.
Interest is also surging from Puerto Rico, even though EnergySage doesn't yet serve the territory: during the October and November 2017 period — when Maria and Irma hit the island — traffic spiked sevenfold compared to June and July of that year. Over the April and May period from this year, traffic spiked by the same amount compared to last summer, jumping up from the dip between December 2017 and March.
EnergySage does not sell the Tesla Solar Roof, which started shipping out to consumers earlier this year. But the company does offer advice for consumers interested in solar roof options, though Liberati also notes the products serve a niche, likely affluent audience.
"Unless you're in the market for a new roof, it's simply too expensive for the average American homeowner to justify," Liberati said. "At their core, these are luxury roof products offering significantly less electricity production per square foot than traditional solar."
Liberati notes that consumers have a multitude of options for both solar panels and solar roofs, with competitors like Beijing-based Hanergy and startup Forward Labs offering alternatives to the Tesla Solar Roof.
Users in these areas that have made the jump to solar are more than pleased with their purchase. Israel Melendez, a scientific cinematographer in Puerto Rico, shared his setup last month of 55 standard 220-watt panels paired with three Tesla Powerwall 2 batteries to generate 68 kilowatt-hours in one day. The system calculated that Melendez had a surplus of 42-kilowatt hours, which he could use to charge the battery or send to the grid. Melendez told Inverse that the system was like "magic."