macOS Mojave: Apple Bans Crypto Mining Ahead of App Store Redesign
The company has blocked apps from needlessly using processor cycles.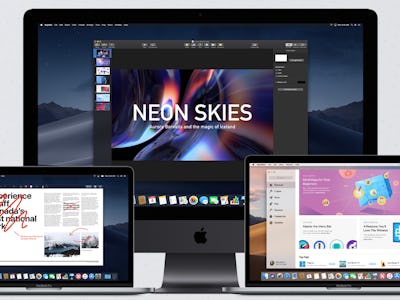 Apple
Apple has taken a firm stance against cryptocurrency mining for its app stores, ahead of a planned major update to its macOS operating system. New roles published on the company's website show that apps will not be able to mine cryptocurrency except in limited circumstances, developers can't offer tokens in exchange for completing tasks, and apps based around "initial coin offerings" will be severely limited.
The company presented macOS Mojave, set for release in the fall, at the Worldwide Developers Conference in California earlier this month. The free update brings a number of features including a dark mode and greater connectivity with the iPhone. One of its highly-touted features includes a redesign of the maligned Mac App store, which launched in 2011 but gradually lost developer support over the years in part due to its restrictive rules. The new version offers a cleaner design with video support, and developer Panic has already agreed to bring its Transmit app back to the store because of changes.
Perhaps some of its biggest changes, though, come from section 3.1.5. Under "mining," the company states that "Apps may not mine for cryptocurrencies unless the processing is performed off device (e.g. cloud-based mining)." The company also stated that "cryptocurrency apps may not offer currency for completing tasks, such as downloading other apps, encouraging other users to download, posting to social networks, etc." Wallets and exchanges are permitted, but initial coin offerings "must come from established banks, securities firms, futures commission merchants ("FCM"), or other approved financial institutions and must comply with all applicable law."
The new rules allow Apple to remove power-sapping mining apps from the store without resorting to a broader guideline that apps should respect system resources. Qbix pulled mining from Calendar 2 after a backlash from users in March. The feature enabled users to choose between various pricing tiers for features, or the ability to unlock all tiers in exchange for mining Monero and passing it to the user. Qbix founder Gregory Magarshak quickly pulled the feature after it didn't work as expected, among other reasons.
When Apple launches Mojave this fall, it will aim to bring users onto the Mac App Store with its new design. Rules like these will mean newcomers can place their trust that Apple has vetted applications for features that may needlessly drain batteries and consume processor power.
At least now users won't have to worry about so-called cryptojacking attempts.