Bringing Back 'Blues Brothers' Might Not Be a Terrible Idea
If you're gonna make a movie about blues music, it helps to include popular blues musicians.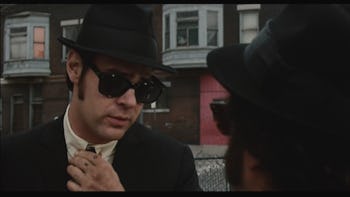 Dan Aykroyd's announcement that he plans to make a cameo in the next Ghostbusters film is burning up the wires, but what of his plan to make a whole new Blues Brothers movie? Well, writers are almost conspicuously avoiding the subject. They shouldn't be.
The original sequel, Blues Brothers 2000, was a miserable failure that pretty much cemented the conventional wisdom about the original: Coked up John Belushi is what made it funny. That's a fair critique, but it overlooks the musical aspects of the franchise. The first film featured James Brown, Cab Calloway, Ray Charles, and Aretha Franklin; while the second, which came out at the height of Clear Channel's dominance, featured half-asleep B.B. King. Ackroyd says he wants to put the music first in his next film and, well, that just might be a great idea.
The blues, neo-soul, funk, and all that sort of stuff Elwood Blues might like has gotten significantly more popular over the last decade. Not only are artists like Leon Bridges, The Sheepdogs, St. Paul and the Broken Bones, North Mississippi All-Stars, Gary Clark Jr., and, yes, The Black Keys finding an audience, we've got people like Jon Batiste (Stephen Colbert's new band leader) dancing their way into popular culture. And that isn't all of it, because a lot of older artists are finding an enthusiastic younger audience. Thank Spotify or don't, but Patti LaBelle and Stevie Ray Vaughan can sell tickets.
Is the new Blues Brothers going to be funny? Probably not. Catching lightning in a bottle is, shockingly, nearly impossible. But it could be a great way to put together a variety show featuring a ton of new talent. And Aykroyd, who owns The House of Blues, certainly gets this. He's not half as dumb as his character and he's still got great taste in music — if not movies — so let's get on board.
We'll take a decent guitar hook over a police chase if we have to.