Did Canada Vote to Legalize Weed? An Everything Guide to the Marijuana Vote
You can't legally read this article until it's 4:20 p.m.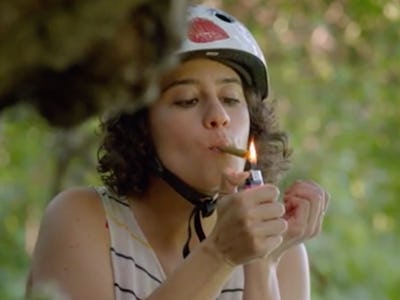 Comedy Central
Lighters up! Legal weed in Canada has cleared another hurdle. Last night, the Canadian Senate voted 56-30 in favor of legislation for recreational marijuana use. This was the projected outcome, despite a number of Conservative senators' opposition to the bill. The Liberal party under Prime Minister Justin Trudeau made cannabis reform a priority in their successful 2015 election campaign.
You can't go out and buy weed in stores just yet, but now that the Senate has confirmed its support, retail could be launched as early as the end of this summer. Each province will have the responsibility of determining exactly when, where, and how Canadians can get their ganja on.
What Happens Next?
Well, it's not legal yet, so don't bust out your contraband. The Senate created a number of amendments that the House of Commons (comparable to the US House of Representatives) needs to decide on before the bill can become a law. The good news is that they probably will, so they can get the bong rolling as quickly as possible.
The legislation authorizes Canadians to grow up to four marijuana plants at home for personal use, but the Senate wants to amend that so individual provinces can set the rules. The body also wants tighter restrictions on advertising. Liberal talking points in favor of legalization are that the law would keep weed out of young hands; Conservatives feel differently.
When and Where Will You be Able to Buy Weed?
There's simply no telling exactly when stores will carry dank produce. Estimates range from "a few months" to "6-8 weeks" to "by the end of the summer." Since provinces will be left in charge of the specifics, some government officials and police members have argued for even more time to decide.
We do know that Canadian marijuana production companies like Canopy Growth Corp, Aphria Inc, Horizons Marijuana Life Sciences ETF, and Aurora Cannabis will continue to rule the weed industry up north. Besides Alberta and Quebec, who set the legal age limit to 19, you can buy weed in stores once you turn 18. Presumably, you'll be able to purchase both dry and fresh cannabis, as well as oil-based products, seeds, and plants.
It's also looking like Alberta and Quebec might ban home-growing, but so far there hasn't been any loud opposition to online sales. The projected pricing is around $10 a gram because the government wants to discourage black market sellers.
Can Americans Cross the Border to Smoke?
The simple answer is yes! The law allows visitors to purchase and use weed. But there might be some complications with coming back to the US because marijuana use and possession are still against federal law. US lawmakers have already expressed concern over longer wait times and increased sniffer dog security at the border, and just the odor of weed on your clothes could be an issue.
It's an even more damning crime for Canadian would-be visitors because just admitting to smoking weed at some point in your life can get you permanently banned from the US. So while stoners can rejoice at the first G7 nation to legalize recreational cannabis use, be sure to mind the legality of where you are and where you plan to go before taking a hit.