E3 Leaks: 6 Biggest Rumors That Gamers Should Be Psyched About
Some likely and some not.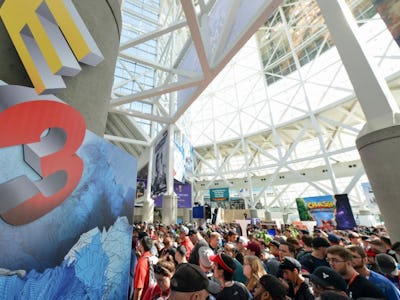 E3
E 3 doesn't officially start until Tuesday, June 12, but the video game festivities start Saturday with the first press conference from EA. It's the press conferences where most game companies will make their surprise announcements, and it's these surprises that tend to get leaked.
Leaks happen for a variety of reasons. In some cases, it's a retailer that is quick to test a new product page, which just happens to be full of yet to be announced games. Other times it's a person at the venue or even with the company that puts their job on the line to send out an early screenshot because being famous for a few minutes is worth the risk. Then there are times when developers pull the trigger and upload new game info that player's can easily access.
Here are some of the E3 2018 leaks and whether or not they're likely to happen.
Rage 2, Just Cause 4, Splinter Cell, Gears of War 5, Borderlands 3
Who Leaked It: Walmart Canada
Will It Happen: Yes.
These games were part of a page that went up on Walmart Canada's website for a short amount of time. What makes this leak valid is that it comes from a retailer, was quickly removed, and had several confirmed releases along with some surprises. The official Twitter account for Rage tweeted about the leak and days later the trailer for the game was released. The rest of the games make sense as the developers associated with the games have been fairly quiet in recent years, which usually means something is brewing.
Superman: World's Finest
Who Leaked It: 4Chan
Will It Happen: No.
This leak seems a bit too good to be true. Yes, it's been awhile since gamers have seen a new game from Rocksteady Studios, but this is just too on the nose. The two posts on 4chan about the game also had the right amount of info to make it sound valid, but what's used to sell the leak is a picture that could be easily manufactured.
Fallout 76 July Release Date
Who Leaked It: Amazon, Reddit, and ResetEra
Will It Happen: Yes.
Bethesda surprised everyone with the announcement of a new Fallout game at the end of May. What's even more surprising is the supposed release date of Fallout 76. Multiple sources, including an image from Amazon, show the game will come out at the end of July. As unconventional as this is from Bethesda, this actually works as the early word of the game is that it's now the standard Fallout game, but rather an online game. It's a bold move from Bethesda, but considering how jam-packed the holiday season can be, and the release of Red Dead Redemption 2 looming over the entire video game industry, this move is crazy enough to work.
Star Fox Grand Prix
Who Leaked it: Reddit
Will It Happen: Let's hope not.
This is one rumor that should cause many to shake their heads at Nintendo. A user on Reddit broke the news that there will be a new Star Fox game, but it won't be a space adventure with Fox and his crew. Instead, it will be a racing game, which the user equated to Diddy Kong Racing on the N64. Expect a lot of disappointed fans if this becomes a reality. Speaking of the N64.
N64 Classic Edition
Who Leaked It: Japanese Trademark Application
Will It Happen: No.
While this isn't a leak and is backed with a legit source, an N64 Classic Edition will not happen…yet. Releasing another "classic" console is a bit too much for Nintendo, especially since now, more than ever, the company needs to push the Nintendo Switch since it's lagging behind in software in comparison to the other two home consoles and the 3DS is on its way out as evident by a severe lack of games. More than likely, this trademark is standard procedure for a release of the N64 Classic Edition for sometime next year.
Fortnite on Switch
Who Leaked It: Epic Games and 4Chan
Will It Happen: Absolutely.
A peek of the upcoming games for Nintendo's E3 event revealed Fortnite would make its way to the Nintendo Switch. While this was questionable at first, the rumor became more likely when a Twitter user took a screenshot of an update for the game appearing in the Nintendo eShop.
Get ready for plenty of new game announcements in the coming days.