'Supercon' Spins Comedy Out of an Alleged Cosplay Heist
We talked to Director Zak Knutson about his modern day comic-con caper.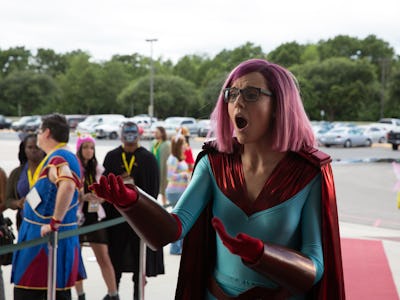 Archstone Distribution
On the same weekend Avengers: Infinity War blew up at the box office, a much smaller movie, Supercon, attempted to steal the weekend away from the Marvel behemoth. While Infinity War told an impossible story about superheroes, aliens, and powerful space rocks, the debut comedy from director Zak Knutson was armed with an equally unbelievable story loosely inspired by real life. As it turns out, truth is sometimes just as strange as fiction.
Available now on DVD, Supercon follows a group of jaded comic-con regulars — including an underpaid artist, a voice actor, the grown child star of a cult sci-fi show, and a comic book veteran played by John Malkovich (yes, really) — who plot revenge after being kicked out at the behest of a spoiled headliner, Adam King (Clancy Brown). Because so many guests at conventions depend on these weekends to pay the bills, the heroes of Supercon plot their revenge against the crooked promoter.
Knutson, a Kevin Smith collaborator who's also directed TV specials for Marvel, takes his first stab at comedy with Supercon. The mostly real-life inspirations come from multiple points of origin, like the actual Florida Supercon held in Fort Lauderdale every summer, but the biggest is an urban myth about a group of cosplayers who made off with a hundred grand in geek money.
Legend has it, one year at DragonCon, cosplayers in Stormtrooper armor robbed the convention and escaped incognito. "They slipped out and got in with the 501st [Legion], in the big parade that takes over downtown Atlanta," Knutson tells Inverse about the alleged robbery. "I heard that and thought it was an awesome idea for a movie."
The story, fortunately (or unfortunately, depending on how you ask), is false, at least that's what DragonCon said when I called their offices to confirm. But Knutson is clearly intrigued by the potential of a heist that crosses Ocean's Eleven with Fanboys, and who wouldn't be? As geek culture has crystallized in the mainstream, nerd characters in movies don't just have to be rehashes of Revenge of the Nerds or those Star Wars debates in Clerks.
"Geek culture is everything culture now," Knutson says. "The culture shifted. When I was growing up, if you were wearing a Captain America shirt you got your ass kicked. Now, it's cool."
The director says his film subtly explores this new social dynamic that, at 44, he's still getting used to. "If you watch the movie, all the kids are fine with it. It's the older guys who have a problem."
Knutson says he was compelled to set his story in the archetypical "mid-range" convention, the ones that aren't in San Diego or New York but are happening in your hometown this weekend. "When you say 'comic convention,' people think San Diego," he says. "That's the Super Bowl. This is an average Sunday. It's not a huge deal but everywhere in the country there's at least three every weekend."
It's in these mid-range conventions where the personalities of Supercon feel the most real. With Adam King, Knutson took after the reputations of certain behemoths in the nerd world with outsized egos. "It's not William Shatner," he makes clear, "but at the same time Shatner is known publicly for a certain attitude. Adam West, back in the day, was known for a certain attitude. We grabbed from everybody and threw them all into one."
John Malkovich, a twice Oscar-nominated actor Knutson admits he's still shocked was in his movie, is also an amalgam of the "elder statesmen" of the industry who show up at these conventions. "The part was written for a Stan Lee-type," the director explains, "When John came, obviously he couldn't be that elderly gentleman. I shifted the character into a Jim Starlin." It was a cosmic coincidence Supercon opened against Avengers: Infinity War, a multi-million studio movie that used storylines and characters straight from Starlin's career.
"I think Jim is a fascinating guy," Knutson says. "I started telling John about it. John started going through the history of Jim Starlin, getting into Jim a bit. A quasi-hippie, maybe he went to Vietnam and then went to work for Marvel. How do you say no to John Malkovich?"
Supercon is available now on DVD and VOD.