Ticketfly Temporarily Shutters Its Website After Hack
It'll be down for an unspecified amount of time.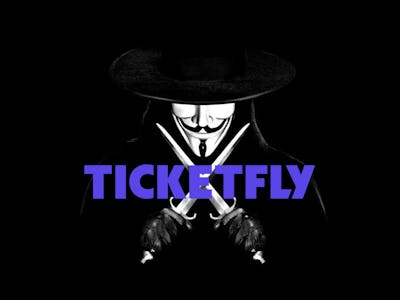 Your Thursday night concert plans might be in jeopardy, particularly if you booked your tickets on using Ticketfly. According to the company's site, it was recently the target of a cyber security attack. If you're on your way to a show, you should probably reach out to the corresponding venue to see how they're checking tickets for the event.
The site was downed by a hacker or group of hackers allegedly known as "IsHaKdZ." The company has since been able to gain back control of the site, but as of Thursday night it remained offline as the company took steps to safeguard its information and assess the damage.
It's unclear exactly when the "cyber incident" took place, but Billboard reported that users began noticing signs of the hack as early as Wednesday night. Tickefly's homepage was momentarily swapped out for the hacker or hackers' calling card, a picture of V from V for Vendetta with taunting text that read "Your Security Down im Not Sorry."
Currently, the website has been completely shuttered for an unspecified amount of time. Ticketfly posted a public service announcement stating that the site would be back up soon and to contact venues and promoters to find out about the status of upcoming shows. Washington D.C.-based music venue 9:30 Club, tweeted that all customers who purchased print-at-home tickets should bring physical copies.
In a tweet the company stated it took down its site "to protect our clients and fans, and to secure the website and related data." However, the hackers sent Motherboard cybersecurity reporter Lorenzo Franceschi-Bicchierai files of what they claimed were customer and employee information.
In subsequent tweets, Bicchierai stated he was able to verify that some of the data that was sent to him was, in fact, the personal information of what appeared to be Ticketfly employees. Fortunately, at least for the time being, the reported said it does not seems that card numbers or password were stolen.
Inverse reached out to Ticketfly for comment and did not immediately receive a response, but we will update if we hear back.