What Is Cryptocurrency Addiction? A Rehab Clinic in the UK Now Offers Treatment
Are you addicted to Bitcoin?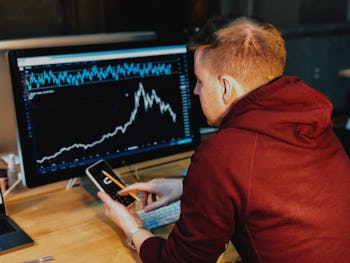 Unsplash / Chris Liverani
By now, most of us are aware of the unpredictable nature of cryptocurrencies, and the emotional rollercoaster it can take investors on with it. To skeptics, crypto currencies are simply a hyped-up bubble heading towards an inevitable burst. But to those who have bought in, crypto can be an exciting virtual Wild West, offering the allure of millions made on much, much less.
All the action — or hope for action — can be conveniently monitored from the palm of your hand, with apps that give you minute-by-minute valuations of your investment any time you want. All told, it's a recipe for some people to get carried away, according to a rehab clinic in the UK that specializes in gambling addictions.
On Monday, Castle Craig rehab clinic announced it now considers crypto currency addiction a form of compulsive online betting, and it's including it in its gambling rehab program.
What is a Cryptocurrency Addiction?
The Scottish clinic describes a crypto trading addiction as "a behavioral addiction, similar to gambling addiction" that can disrupt or damage an addict's personal and professional relationships — as well as siphon away their savings.
Castle Craig probably has a point. While there isn't a lot of data on the addictive nature of crypto trading yet, dealing in cryptocurrencies mimics a lot of the qualities of old-fashioned gambling. With the many obscure crypto coins available to research and invest in, it can feel a little like betting on horses; an educated guess that can lead to a big pay off or an eventual loss. Consider also that unregulated crypto markets experience high gains and losses, making it feel more like Las Vegas than the New York Stock Exchange.
What's more, checking investment values on crypto apps like Coinbase can offer the kind of dopamine rush that could lead to a compulsive clicking habit. Far less financially risky apps like Instagram and Facebook have made their business out of enticing users to refresh again and again.
Castle Craig says it doesn't have any official numbers on the rate of people who become addicted to crypto trading. However, the crypto market can appeal to anyone with a gambling problem, especially because it doesn't carry the same social stigma as playing the slots. "Quite a few people have come into treatment with gambling addictions, which include a certain amount of dabbling in cryptocurrency," Chris Burn, a gambling therapist at Castle Craig, told Motherboard. "It's still relatively rare to find someone whose sole addiction is trading in Bitcoin but it's very clear to us that this is something on the increase."
Treatment for gambling addiction at Castle Craig involves intensive evidence-based therapies, like step programs, trauma therapy, cognitive behavioral therapy, animal therapy and more.
If you think you might be on the verge of an unhealthy crypto habit, Castle Craig has a helpful guide to help you decide if you need help on its website.