Michelle Wolf Spits Comedy With a Side of Biochemistry in 'Vogue' Interview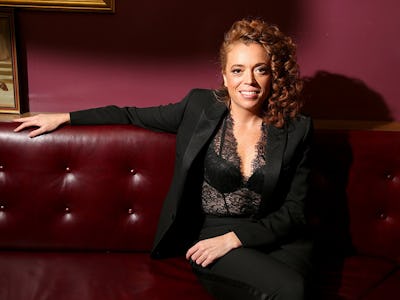 IMDB
Michelle Wolf made it to her current career like a lot of other 32-year-olds — with pitstops at random jobs along the way. While the talented and bouncy-haired comedian rocketed to stardom after hosting this year's White House Correspondents Dinner and now has her own weekly Netflix show, a new video produced by Vogue reveals that Wolf used to work in two very different fields: finance and biochemistry.
Posted on Tuesday, "73 Questions with Michelle Wolf" ultimately leads the unseen interviewer to ask her to tell him "something biochemical I most likely will not understand." She quickly cracks back that, "Did you know that molecular dynamics can be used to study proteins, enzymes, and kinases? Oh my God." If you want to see the charm for yourself, plug in at about the 7:15-minute mark.
So, what exactly is Wolf talking about? Well, to biochemists, she's essentially stating the obvious. Molecular dynamics is a simulation methodology used to study the conformational rearrangements of molecules as well as their interactions with other molecular species. These simulations are a powerful tool for scientists who want to understand biological building blocks work — like the proteins, enzymes, and kinases that Wolf mentions. So, for example, you want to understand how proteins rearrange while performing their function in the body, you can use molecular dynamics to simulate how proteins move in real life.
Molecular dynamic systems are also used by physicists to study the interaction of atoms and molecules. By exploring the force between those entities, they can better understand things like phases of matter, thermal effects, and a little gang of rules known as Newton's laws of motion.
Why Wolf has (let's go with) some idea of biochemistry is because she studied kinesiology in college and worked as a recruiter in a biochemistry lab after she left her job at the investment bank Bear Stearns due to the 2008 financial collapse. That job, she told The Daily Beast in a January interview, "gave me a ton of time to sit at my computer and tweet all day, which really helped with my joke-writing."
Perhaps unsurprisingly based on that comment, Wolf was eventually let go from the lab. Which was good news for comedy! She used the severance and savings to dive deeper into standup and improv, and bada bing, got a coveted spot in the writer's room of Late Night With Seth Meyers. Which is a little bit better than tweeting all day from a lab.