'Fortnite' Shopping Carts Are Coming Soon
For when your arms get tired carrying all those weapons.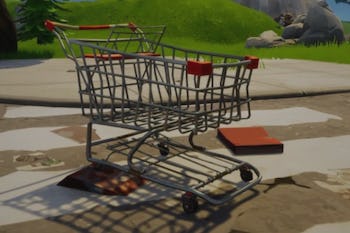 Reddit
Each week Epic Games releases a new update for Fortnite that contains new challenges, weapons, and sometimes a new limited time modes, however, with this week's update, players may get something that is made of metal, has four wheels, but no motor.
Players who jumped on Fortnite Monday saw the news of something new coming soon to the game. Shopping carts will be added to the game in a future update. The description for the cart says, "roll into battle alone or with a buddy."
Shopping carts first appeared in March with the v3.0 update. They were scattered across the map and filled with random junk. Fortnite Insider went into the game's data after the update went live and found that the carts were actually listed as "driveablevehicles" although players couldn't interact with them at the time.
How the shopping carts will be used is still unclear. It could be that the items will be part of some new limited time mode in the same fashion that Jetpacks were included in last week's update. There's also the chance that the carts are there just for fun similar to how there are soccer balls located in certain areas that players can kick if they get close enough. The fact that it mentions players can "roll into battle with a buddy" hints that the carts will be driveable in some ways.
Epic has yet to provide any context for the addition of shopping carts and whether they will be included in Tuesday's update or if this is a teaser for something down the line. Players may have to wait until the update is complete to find out if they'll be riding around the island in style or not.
Another new item coming in the next update are Gravity Stones, which are being confused with the gems that let players jump higher than normal called Hop Rocks As part of a Weekly Challenge, players will have to find the stones in order to earn five Battle Stars.