Why Malta is Surging to Become a 'Blockchain Island'
The DELTA Summit will be held in October.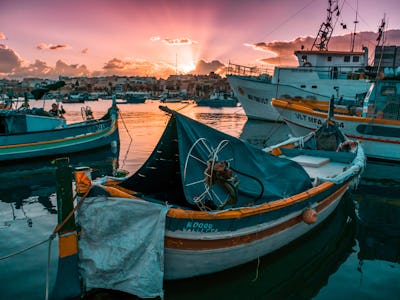 Unsplash / Remi Yuan
Malta is surging ahead to forge a reputation as a blockchain nation. This month, the island nation of around 500,000 near the Italian coast announced plans for the DELTA Summit, the government's first official blockchain event. It comes as other European nations rush to make the most of the decentralized ledger that underpins cryptocurrencies like Bitcoin.
"Malta wants to invite everyone in the digital innovation space and blockchain industry as well as fintech companies to join us, and to come and learn more about the country's efforts and being trailblazers in this field," Abdalla Kablan, CEO of the DELTA Summit, tells Inverse.
Blockchain has got the tech world talking. It's a decentralized distributed ledger system, first outlined by Satoshi Nakamoto in Bitcoin's 2008 white paper as a means of logging transactions for the worldwide currency. With blockchain, "nodes" in a network host the ledger and share it around, but the network needs to agree to changes before the ledger is updated. This means users don't need to trust and depend on a central server.
The DELTA Summit, which will be held October 3-5 in the capital city of Valetta, boasts a star-studded lineup of attendees: Speakers include ChangPeng Zhao, the founder and CEO of major crypto exchange Binance, and Wikipedia co-founder Larry Sanger, who was announced last December as the new chief information officer for blockchain-based encyclopedia Everipedia. This latter project is an example of blockchain's applications outside of crypto: because Everipedia is stored on a broad network of computers, it's less susceptible to attacks and censorship compared to a single copy hosted on a server.
It comes after a number of big moves from Malta. Earlier this year, prime minister Joseph Muscat claimed that virtual currencies will "no doubt […] form the base of a new economy in the future." Parliamentary secretary Silvio Schembri announced in February a distributed ledger technology regulation initiative, which includes a number of pro-tech bills. In April, Berlin-based fundraising platform Neufund announced plans to participate in the developing ecosystem.
Malta is in a race against other European nations to make the most of blockchain. Estonia, a Baltic country home to 1.3 million people, announced three crypto-inspired initiatives in December that could revolutionize the country's computing systems, including a blockchain-powered identity system that can verify a user's information. Liechtenstein, a country of fewer than 40,000 to the east of Switzerland, will play host to the "House of Blockchain" co-working space announced by computing platform Aeternity in March.
Inverse spoke with Kablan to find out more about the DELTA Summit:
Why are blockchain companies coming to Malta?
The country of Malta is one of the first nations in the world that wants to welcome the revolutionary power of blockchain technology, building a regulatory framework for such technology arrangements and services, and an ecosystem that is attractive to blockchain companies. Here in Malta, blockchain enterprises, startups, and investors will be able to meet and share insights and also to build the future of blockchain together. This is why the government is passing regulatory initiatives that will provide a safe haven for different companies that want to come and have their home base here in Malta.
It seems that the DELTA Summit has an all-star cast of speakers lined up. What has been the reception to Malta's efforts?
Since February, the Government of Malta made a declaration that they want to be a leader in blockchain regulation, and we received a tremendous response internationally and the feedback we received was extremely positive. What we have done is we have looked at this sphere in a holistic manner, and because of this, the label of the "blockchain island" was given to us. We are overwhelmed by the positive reaction which we are receiving from the world's top thought leaders, innovators, and experts in this space and we look forward to welcome them all in October.
How do these efforts compare to similar blockchain-friendly small European nations like Estonia?
In Malta we have decided to look at regulation from a holistic perspective. Starting from defining technology arrangements and services based on DLT (distributed ledger technology) which is captured by the MDIA and ITAS bills, then moving into applications which is why we had the Virtual Financial Assets (VFA) bill, this is a different approach than all other countries because we have put technology and innovation at the center of the regulatory process. Malta has the goal to become the "blockchain island", a label that was given to us from the media. We have already begun passing laws in the government that will help us in regulating the field.
Do you support the use of cryptocurrency as an alternative form of exchange to the euro?
We have established the VFA act to regulate virtual financial assets and to regulate the exchange of value within a crypto currency framework. This is not an alternative to existing fiat currency but a way to ensure consumer and investor protection in this space which has been unregulated for many years.
What do you hope will be the result from the DELTA Summit?
With the DELTA Summit, Malta hopes to show that it is a trailblazer in this particularly new industry, and how we are raising the bar in this particularly new space. The DELTA Summit will be Malta's official platform to share its initiatives and its opportunities in the sector and to welcome some of the world's top corporations to come and set up in Malta.
Do you see other countries following your example in the future?
Yes, here at Malta we are the trailblazers, and we believe that other countries will be following suite. The vehicle that is blockchain can improve our way of governing.