What to Expect From Amazon Prime Day 2018
The kind of made up holiday we can get behind.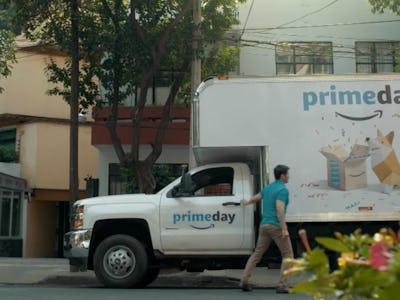 Amazon
The contemporary version of coupon cutters look forward to one day each year with a particular zeal: Amazon Prime Day.
Invented in 2015 as a way to celebrate Amazon's 20th birthday, the pseudo-holiday for buying stuff became an immediate success. Amazon sold more units that day than on its biggest Black Friday sales. Since then, it's been anticipated yearly for its cross-department deals on everything from electronics to clothing.
So When Is It?
Amazon hasn't announced the exact date for this year's Prime Day just yet, but the event generally happens in mid-July. It will likely fall somewhere around July 11, the date Amazon chose last year. Although the sale lasted all day Tuesday last year, it actually started the night before at 9 p.m., so curious shoppers should keep on top of when Prime Day actually starts in order to grab discounted goods before they're gone.
What Can I Expect?
Judging by years past, we can definitely expect deep discounts on Amazon's own products. Amazon Echos and other bluetooth-enabled speaker devices, Fire TV devices and tablets, and Kindles will all be up for grabs. Otherwise, look out for all the cool stuff you can get on Amazon regularly, but at a much better prices: Mattresses, kitchenware, tents and other outdoor equipment, as well as everyday household products, will see sales ranging from 20 to 70 percent off at times.
If it's anything like last year, be on the lookout for what's covered under "Spotlight Deals." These are offers on top brands and popular items and usually feature big discounts. Last year also featured "Lightning Deals," which are the same idea, except they pop up as often as every five minutes and only run for limited time.
You'll Need a Prime Account
Prime members are automatically eligible for deals. If that's not you, it might be prudent to sign up now. A yearly Amazon Prime membership costs $119, or $59 if you're a student. Monthly memberships are $12.99, while student members pay $6.49.
Last year, Amazon allowed users to begin their free 30-day trial on the day-of.