Bitcoin Pizza Day: Why May 22 Is a Historic Day for Cryptocurrency Fans
Those pizzas are worth around $82 million now.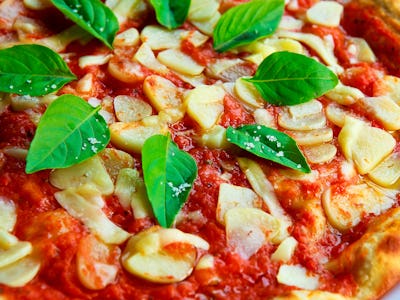 Unsplash / Cel Lisboa
How many pizzas does it take to start a movement? In the case of Bitcoin, the answer is two.
On May 22, 2010, programmer Laszlo Hanyecz spent 10,000 bitcoins on two Papa John's pizzas worth around $25 delivered to his home in Jacksonville, Florida. It seemed like a rather innocuous trade, but it's commemorated by cryptocurrency fans as the first time someone traded bitcoins for a real-world commodity.
"It wasn't like bitcoins had any value back then, so the idea of trading them for a pizza was incredibly cool," Hanyecz, then 32 years old, told the New York Times in December 2013. "No one knew it was going to get so big."
Big is an understatement. While Hanyecz traded his bitcoins for a relatively fair price at the time, that same amount is now worth a staggering $82 million. The trade, which took place the year after Bitcoin itself launched, is now commemorated with traditions like Twitter's Bitcoin Pizza Tracker, which follows the astronomical rise of Hanyecz's pies:
Foreign exchange specialists Forex Time also maintain a Bitcoin Pizza Tracker. On Tuesday, it showed the same amount of Bitcoin could buy a staggering 6,584,128 pizzas. If those boxes were stacked, it would stretch over 180 miles into the sky, edging toward the Kármán line that marks outer space.
Hanyecz made the request on the BitcoinTalk forums on May 18, 2010. Under the username "laszlo," he gave very little details about his order, except that he'd be willing to pay 10,000 bitcoins for "a couple of pizzas," with the dream of "getting food delivered in exchange for bitcoins where I don't have to order or prepare it myself, kind of like ordering a 'breakfast platter' at a hotel or something, they just bring you something to eat and you're happy!" As for toppings, he asked for "just standard stuff no weird fish topping or anything like that."
While Hanyecz had used his computer to mine some bitcoins, he hadn't really used them for anything. Each coin was worth around 0.003 cents each. However, forum users noted that even in the nascent days of Bitcoin, he could have sold the 10,000 for $41 on BitcoinMarket. That wasn't enough to deter Hanyecz, who shared images of his completed purchase:
Eight years later, Bitcoin is accepted slightly further afield than peer-to-peer deals for Papa John's. A number of major online stores including Microsoft support Bitcoin payments, and it powers a number of exchanges including Coinbase and Abra that offer rapid transfer between fiat currencies.
The community hasn't forgotten Hanyecz's heroic quest. Ledger has released a limited edition red "Pizza Day" cryptocurrency hardware wallet to mark the occasion, while BTC.com is offering free pizza to the first 10 people to share a photo of their meal. It may look like any ordinary pizzas, but it was enough to fuel a global movement.