The 22 Major Stores Online that Now Accept Bitcoin
There's a whole lot of Bitcoin places out there.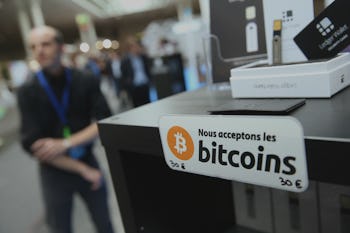 Getty Images / Sean Gallup
So you've invested in Bitcoin. Now what? You can choose to "hodl" and hope the value goes up, or you can use your $11,000 coins to make some secure purchases.
Despite a large amount of interest from investors, Bitcoin still has yet to set the retail world alight. Nonetheless, there's a few outlets that accept cryptocurrency payments, which will help you get a handle on this new technology. Who knows? Maybe down the line you'll be able to tell your grandkids about how you were among the first to buy something with Bitcoin.
With travel agents, gaming stores, and even spaceflights, there's something for everyone. Here's 22 stores you should check out:
Valve's online gaming platform accepts digital currency as an alternative to regular payment methods, allowing you to put your virtual coins to good use in virtual worlds.
Looking to make a donation to the free online encyclopedia? Do it with crypto.
The company behind TurboTax and other products offers PayByCoin as an easy way for small business owners to integrate bitcoin into their QuickBooks Online invoices. Customers receiving an Intuit invoice can choose to pay using cryptocurrency should they wish. Slightly ironic that the company accepts bitcoin considering the IRS is trying to find out who is using bitcoin.
The satellite television provider has been taking bitcoin payments since 2014.
Users can buy movies, games and apps from the Windows and Xbox online stores using the cryptocurrency.
Subway
A select number of Subway stores may accept bitcoin at their own discretion. Watch customer Adam Welsh order the first Subway sandwich with bitcoin on November 2013:
The computer component retailer now takes bitcoin, ideal for all those new monitors you'll need to keep track of your bitcoin investments.
Etsy doesn't exactly offer a direct bitcoin payment method itself, but certain members have developed a way of accepting payments for their goods by using the "other" payment method. Stores that accept bitcoin should say in their description.
Square
The major point-of-sale company announced plans to roll out bitcoin support for its Cash payments app. With a toe dipped in the payment system, it may not be long before payments expand out further for physical stores.
The virtual private network provider started accepting bitcoin payments back in 2014, and regularly touts the cryptocurrency as a method of staying safe online.
Those looking for an alternative private network may find PureVPN better suits their needs.
The online travel agent takes booking using the cryptocurrency.
Book your whole trip using bitcoin with this handy service that suggests flights, hotels, accomodations and attractions that all support cryptocurrency.
Use bitcoin to book flights, car rentals and more.
Looking for something a bit more…out of this world? When Virgin starts taking passengers into space, would-be astronauts can foot the bill using a 21st century form of currency.
The major online retailer that offers discount prices on a number of household goods claims to be the first retailer to accept bitcoin as part of its regular payments method.
Looking to purchase gift cards for birthdays or other celebrations? eGifter lets you convert your bitcoins into one of over 250 physical card for use in brick and mortar stores.
The online budgeting tool allows you to keep track of bitcoins stored and traded on Coinbase, hooking into other budget tools.
The campus store that serves the Harvard and MIT communities offers cryptocurrency payments as part of its operations.
This health and fitness retailer takes bitcoin payments to enable superfood fans to get their vitamin on.
This London-based luxury travel agency, which offers a number of highly-exclusive getaways including a private jet charter service, also takes bitcoin payments.
"Berkeley understands that our clients may hold money in several currencies and jurisdictions," the company says on its website. "We can facilitate payments to offshore accounts, and via Bitcoin and other digital currencies."
Don't see your favorite store on the list? Shakepay issues users with a 16-digit virtual Visa card number, with a chip-and-pin plastic card for real world purchases. Pay for almost anything with bitcoin, dash, or ethereum.