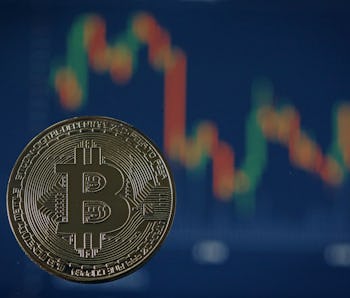 Innovation
What Does 'Hodl' Mean? The Bitcoin Meme Causing a Storm on Reddit
Getty Images / Dan Kitwood
Bitcoin has seen a flood of interest over the past few days, as newcomers buy in and the cryptocurrency reaches new heights. Communities have expanded in size with new investors, and there's a key piece of advice many of the veterans have: hodl.
An intentional misspelling of "hold," the phrase often repeated on the bitcoin subreddit and other forums essentially advises buyers to keep their cool in the face of drops. Although the blockchain-based cryptocurrency was first announced in a white paper in 2008, and its price reached a staggering high of $11,000 this week, many believe the currency's best days are still to come. Panicked selling during a sudden drop, like the $2,000 crash on Wednesday, is a bad move in the eyes of "hodl."
The meme appears to stem from a December 2013 post on the BitcoinTalk forums, when the cryptocurrency was available at the rock-bottom price of $551. In a rambling post entitled "I AM HODLING", forum user "GameKyuubi" drunkenly explained their investment strategy, declaring that they are "a bad trader" and that "you only sell in a bear market if you are a good day trader or an illusioned noob," while "the people inbetween hold."
"GameKyuubi" may have outlined what they believed to be a fine investment strategy, but the users fixed on the mis-spelling and responded with memes.
The meme has persisted throughout the years, like this one posted earlier in September:
Some crypto fans have even put the slogan on t-shirts:
Is it good to "hodl"? Paul Madore, a writer at CryptoCoinsNews, claims that holding through particularly tough drops ultimately pays dividends in the long run.
"You can panic with the rest or you can hold," Madore says. "Over the long-term, those who've held through the worst of the bitcoin price panics have profited the most handsomely."
It all depends on whether you see bitcoin as a long-term cryptocurrency, or a short fad with little lasting value. If you fall into the former camp, you'll be pleased to hear that the entire crypto market still only covers around $200 billion, and the global economy is worth around $84 trillion. Crypto's proponents see a future where more of the global economy runs through bitcoin-based transactions, and with a limited supply of currency out there, such a shift would ramp up demand and increase coin prices.
"It was founded to redistribute value, move money away from bankers and financial institutions to people. Anyone could become a bank, payment service, lender," Karthik Iyer, India's ambassador to the P2P Foundation, said in an interview with Inverse. "It is the greatest redistribution of value in human history."
If you fall into the latter camp, you may want to question why you bothered with bitcoin in the first place.