Steve Wozniak Has More to Say About When Bitcoin Will Reach Its Full Potential
Woz once said Bitcoin is "better" and more "stable" than gold and than U.S. dollar.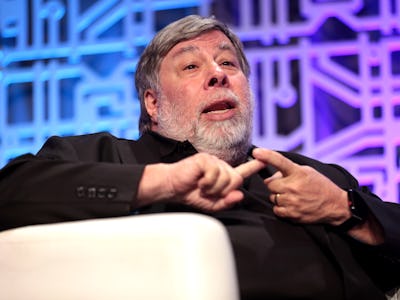 Flickr / Gage Skidmore
Apple co-founder and blockchain enthusiast Steve Wozniak took the stage at Europe's largest IT conference, "We Are Developers," Wednesday. The event attracted roughly 8,000 visitors from 70 countries, many of which congregated to hear Wozniak's opening speech regarding how he sees the blockchain shaping the future of the technology sector. Endorsements from big names have been seen to boost digital currency prices. But according to CoinMarketCap, Bitcoin is valued at $8,291 as of 2 p.m. Eastern, down from its 24-hour high of $8,445.
Wozniak, a known cryptocurrency evangelist, was quoted saying that Bitcoin is "better" and more "stable" than gold and than U.S. dollar, at the October 2017 Money 20/20 conference in Las Vegas. This year, he did not back down from his opinions on the decentralized tech, touting it as "the next major IT revolution that is about to happen." However, he was clear about pointing out that blockchain tech still has a while to go before it sees widespread adoption in other use cases other than cryptocurrency.
While the tech expert sees limitless potential for the encrypted ledger technology, he believes it needs to be refined in order to see applications in different industries. Wozniak believes that both the blockchain and cryptocurrencies will reach their full potential in just a decade.
The Apple co-founder previously stated that the decentralized ledger already had a leg-up compared to fiat currencies during the Money 20/20 conference. This is because of the fact that only a certain number of bitcoins can exist, while the dollar can just be printed by the Federal Reserve. He called the U.S. dollar "kind of phony" while describing Bitcoin as more "genuine and real."
Bitcoin Price Predictions: When Will BTC Overtake the Dollar?
Twitter CEO Jack Dorsey echoed Wozniak's thoughts about the future of cryptocurrencies back in March. He said that Bitcoin will overtake the dollar in a matter of 10 years. That's the same timeframe in which, Wozniak believes, the blockchain will unleash its full potential.
While there might not have been an immediate market boost following Wozniak's comments. It's safe to say that investors will take note that tech figureheads are expecting to flourish in the long-term. This could give them more confidence to invest later down the line.