Apple Co-Founder Reveals Why He's Skipping iPhone X in New Video
Steve Wozniak is 'worried'.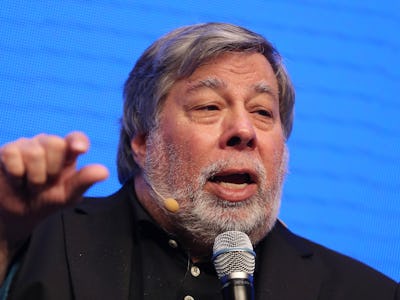 Getty Images / Sean Gallup
Apple co-founder Steve Wozniak is not getting the iPhone X at launch, he revealed in an interview last week. The entrepreneur responsible for Apple's early success has bought every previous iPhone on launch day, but for the $999 phone due for launch on Friday, the man fans dub "the Woz" is breaking tradition.
"I'm just worried about what it provides me," Wozniak told CNBC's Deirdre Bosa at the Money20/20 conference in Las Vegas. "I'd rather wait and watch that one, and I'm happy with my iPhone 8…which is the same as the iPhone 7, which is the same as the iPhone 6."
Apple is marketing the new iPhone as one that can provide a lot to consumers. Its design ditches the home button present on every iPhone since the original's launch in 2007, opting for an all-screen design. In place of the fingerprint sensor is a new face scanner for faster phone unlocking. In a recent interview, Apple designer Jony Ive said the phone marked the beginning of "a new chapter" in iPhone history.
The fact Wozniak doesn't care too much about the new phone is likely to stir up controversy among Apple fans. Perhaps most famous for co-developing the Apple II computer, he left the company permanently in 1985 as he grew dissatisfied with its direction. He hasn't shied away from Apple's products, though, and he's developed a following in the decades since with his commentary about the state of technology, earning the nickname "wizard of Woz."
Watch the clip below:
The new iPhone may be a big moment for Apple, but it comes at a time when smartphones can already perform most tasks to an acceptable level. In the same interview, Wozniak suggested that he was less interested by smartphones in general, preferring to follow future-facing areas that hold promise.
"My attention doesn't go to the latest smartphone or the highest category as much as it used to," Wozniak said. "It goes to articles about electric vehicles and self-driving cars and what companies are doing."
However, those that think Wozniak may turn out to be a secret Elon Musk fan may be in for a slight disappointment. At the same event, he described Musk's Tesla electric car firm as one that has "way too much hype," and that drivers place a bit too much trust in the Tesla Autopilot system.
"Tesla has in people's mind that they have cars that will just drive themselves totally, and it is so far from the truth, so they have deceived us," Wozniak told CNBC.