SpaceX: Why President Gwynne Shotwell 'Loves' Working for Elon Musk
The pair have a strong working relationship.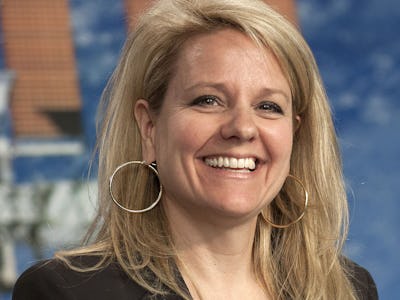 Wikimedia Commons
Gwynne Shotwell has possibly one of the best jobs in the world. She's the chief operating officer and president of SpaceX, the exploration firm looking to send humans to Mars as soon as 2024. In a number of interviews, Shotwell has described how working with CEO Elon Musk has pushed her in a strong new direction.
"I love working for Elon," Shotwell said during an April TED Talk. "I've been doing it for 16 years this year, actually. I don't think I'm dumb enough to do something for 16 years that I don't like doing. He's funny and fundamentally without him saying anything he drives you to do your best work. He doesn't have to say a word. You just want to do great work."
Shotwell admitted that Musk can be "very aggressive" with his timelines, but the approach "drives us to do things better and faster." Musk outlined at the IAC in September plans to go to Mars, but Shotwell has already described the planet as a "fixer-upper," and she's considering how to find "people, or whatever they call themselves, in another solar system." She's also supported Musk's plans for Earth-bound BFR trips:
"When Elon says something, you have to pause and not immediately blurt out, 'Well, that's impossible,' or, 'There's no way we're going to do that. I don't know how.' So you zip it, and you think about it, and you find ways to get that done," Shotwell said at the TED Talk. "I noticed every time I felt like we were there, we were rolling over, people were getting comfortable, Elon would throw something out there, and all of a sudden, we're not comfortable and we're climbing that steep slope again. But then once I realized that that's his job, and my job is to get the company close to comfortable so he can push again and put us back on that slope, then I started liking my job a lot more, instead of always being frustrated."
Shotwell has spoken before about her boss's strong management skills. She started as employee number 11 as the vice president of business development back in 2002, the same year the company was founded. After she was promoted to the position of president, Musk respectfully handled the transition as Shotwell was elevated to a higher rank than her vice president peers.
"He did a great job," Shotwell told Marie Claire in August 2017.
In an interview with BTN LiveBIG, Shotwell named the person she looks to for inspiration in her career as "my boss, Elon [Musk], for sure. And the employees of SpaceX. It's a pretty motivating environment. People work really hard, they're really smart and they're super-dedicated."
The feeling is mutual. In the Marie Claire interview, Musk said that "SpaceX is lucky to have Gwynne and I am honored to work with her," and that "our company would not be where it is today without her outstanding contribution over 15 years."