South Korean Election Hopefuls Are Planning Their Own Cryptocurrencies
It could mean big price movements in the cryptocurrency markets.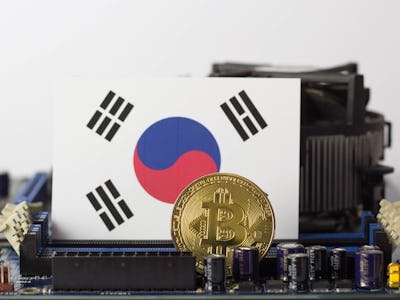 Flickr / wuestenigel
South Korean candidates in next month's local election are proposing a range of new cryptocurrencies in a bid to entice voters. That could be big for investors in the U.S.
The third-largest market for digital currencies holds great sway over price movements, and the election proposals have got experts talking.
How will the new coins work? "If you save electricity or do certain things that benefit the environment or help others, you will receive these coins … and you can use them as a form of currency in government infrastructure," J.B. Lee, head of operations for blockchain network Aelf, tells Inverse. "Right now the legal structure does not allow that to happen, so this is basically an indirect way to say they're going to ease up the regulations."
The polls are set to open on June 13 to elect all 17 metropolitan mayors and governors. While these positions won't have much direct legislative power over cryptocurrencies, a warm reception from local leaders could sway the national government to take action. The cryptocurrency community is waiting to see what will happen when these pro-crypto proposals receive a mandate from the people.
"The market usually gets a little bit excited because the more liquidity in terms of fiat currency will be circulated in the market during the election and right after," Lee says. "People are anticipating that the market will get more invigorated as a result of this."
South Korean markets have cooled off since the December 2017 hype, during which Bitcoin traded at a 23 percent premium and one-fifth of Bitcoin trades used the Korean won.
Seoul is of particular interest, as the metropolitan area is home to around half the country's 51 million residents. When it comes to cryptocurrency changes, Lee says, Seoul will be the city that "wields the strongest power," and the mayoral position is "the key highlight" of these elections.
The proposals, as translated from a table published in SEDaily on April 16, are as follows:
Seoul Coin. This coin was proposed by Park Young-sun, a Democratic Party politician currently serving as a member of the National Assembly. The cryptocurrency, which would have covered the Seoul city area, would give incentives to volunteer workers, invigorate city economy, and create a sense of unity. Young-sun failed to win her party's primary for Seoul mayor, suggesting this plan is now on ice.
S-Coin. This coin is proposed by Park Won-soon, the incumbent mayor of Seoul running for a third term and winner of the Democratic Party's primary. S-Coin would offer "eco-mileage" to citizens who put effort to save electricity, water and gas. It also offers pension points for seniors, as well as an unemployment pension.
B-Coin. This coin, proposed by Liberty Korea Party member Park Min-shik for use in Busan city, would give incentives to volunteer workers and charities and the creation of a "smart city" based on the blockchain.
Local Coin. This coin from Democratic Party member Kim Kyoheung covers the Incheon city area. It offers unemployment pension, birth encouragement, child support and the potential to create a locally circulating new economy.
Cheonan Love Coin. This coin, proposed by Park Sang-don, would cover the Cheonan city area. It offers pension points, pension pay, and the ability to create a locally circulating new economy.
Gwanak Coin. This coin from Park Joon-hee would cover the Gwanak district to create an economy that stays localized.
West District Coin. This coin is proposed by Lee Seong-il for the Gwanju West District. It would offer incentives for volunteers and businesses that contribute to the communities.
Finer details on the above plans are unclear. Many small projects that offer an "initial coin offering" to raise capital use the ERC-20 token standard, which runs on the Ethereum network, as a way of getting started. The candidates have yet to announce whether their token would also use ERC-20 or if it would take another approach.
"That's actually the first question we all asked between developers," Lee says. "These are going to come at least a year or two after they have been elected, so these are still going to take a long time to brew."
Because these plans involve a top-down, government-led approach, there is a possibility that the end system uses the name "cryptocurrency," but drops some of its biggest benefits like decentralization and power in the hands of its users to ensure the authorities can maintain tight control.