'Predator' Remake Stars Tease Old School Heat Vision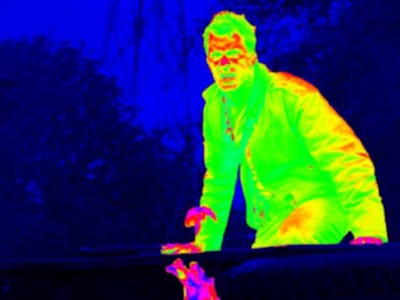 twitter
The stars of the upcoming remake of The Predator on Wednesday teased the release of the trailer for the movie on Twitter. Their tweets showed how the Predator in the new movie may have thermal vision similar to the original 1987 movie rather than the newer films.
Olivia Munn, Thomas Jane, Sterling K. Brown, Jake Busey, Keegan-Michael Key, and Travente Rhodes all tweeted images associated with The Predator. The stars hinted that "something is coming" and included shots from the movie in a normal view and in the iconic thermal vision used by the Predator. Trailer Track reported on Wednesday that the trailer for the remake has been rated and is ready for release.
The teaser images from the stars show that the Predator's heat vision has returned. In 2010's Predators, the alien hunter's vision looked similar to more modern thermal vision technology.
But the images shared on Wednesday are more akin to 1987's Predator with more blue and green, although the new images have far more facial detail than the original movie. Maybe the Predator upgrades its equipment?
Shane Black is the writer and director for The Predator. 21st Century Fox announced the new remake back in 2014, a little over a year after he wrote and directed Iron Man 3. His last movie, The Nice Guys(2016), did better than average the box office, but was a hit with critics, earning a 92 percent rating on Rotten Tomatoes.
Fans of the original will get a peek at The Predator when the trailer is released Thursday, and the remake will make its debut on September 14. The trailer was first shown at CinemaCon in April with mixed reactions from those in attendance.
Two big questions regarding The Predator are whether it will build on the possible shared universe with The Terminator and Aliens, and if there will be a cameo from Arnold Schwarzenegger.