FIFA "Packs" Aren't Gambling, EA Chief Says Amid Government Scrutiny
The lines between games and gambling are blurring.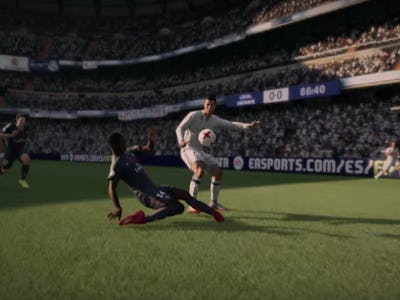 EA Sports
Soccer might be the world's most popular sport, and it has also inspired one of the world's most popular video games. Electronic Arts' franchise, FIFA has captured the attention of tens of millions of gamers across the globe by giving them control over a virtual version of their favorite club. But it has also turned the heads of national governments — Belgium and the Netherlands — that claim one of FIFA's game modes are akin to gambling.
FIFA Ultimate Team — or FUT for short — allows gamers to build their very own soccer club with in-game cards. Users have two options: "Grind" for countless hours to amass enough in-game currency to purchase better players or spend real cash on in-game coins to purchase virtual "packs" that give you a chance to get some of the game's best athletes. But you don't know which players you'll get until you buy a pack with coins — coins that can be sold for real money on the black market.
Much the same as the reaction that was caused by the Battlefront 2 loot crate controversy, FUT has also prompted certain European government agencies to consider regulating this game mode as if it was gambling. But EA's CEO Andrew Wilson sees things differently.
"We don't believe that FIFA Ultimate Team – all loot boxes are gambling," he said during an investor call on Tuesday. "Firstly, players always receive a specified number of items in each FUT pack. And secondly, we don't provide or authorize any way to cash out or sell items in virtual currency for real-world money. We forbid the transfer of items of in-the-game currency outside, we also actively seek to eliminate that where it's going on in an illegal environment."
However, unauthorized exchanges for gamers to sell FUT coins came into existence shortly after the feature came into popularity.
These comments come in light of the Dutch Gaming Authority and the Belgian Gaming Commission, may be in violation of countries' gambling laws. Koen Geens, the Belgian minister of justice, issued an April 25 statement that EA must remove FUT packs or face a fine of up to 800,000 euros.
"The games with paid loot boxes, as currently offered in our country, are therefore in violation of the gaming legislation and can be dealt with under criminal law," reads a translated version of the statement. "The loot boxes must therefore also be removed."
EA's biggest defense against these claims is that users can't cash out in-game items for money. They have also implemented certain restrictions to FIFA that keep users from using in-game loopholes to purchase cards for real money. Those illicit FUT sites still exist and allow those willing to use their service to turn virtual coins into actual money.
While there are still ongoing issues with black market FUT transfers, this microtransaction-fueled game mode probably isn't going anywhere simply because of how much money it nets EA. During the same investor call, EA CFO Blake Jorgensen reported that the company made $1.58 billion in fourth-quarter revenue. The Ultimate Team feature across all of its sports games was cited as a major driving factor.
Seeing as this is such a crucial revenue driver it is unlikely that EA will outrightly remove its pack feature. The Entertainment Software Rating Board announced in February that it will begin specifically labeling games with these types of loot boxes. But anything other than drastic legal action won't make EA shutter Ultimate Team.
As the mircostransaction economy continues to skyrocket in the gaming industry, the line between video games and gambling has blurred.