"Black Dot of Death" Bug Sends iPhone and WhatsApp Into Memory Crash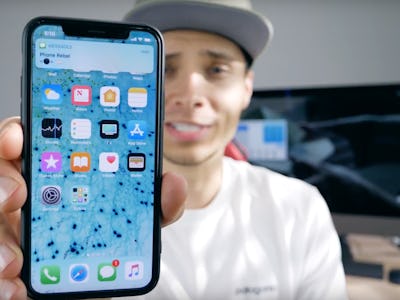 EverythingApplePro/YouTube
Apple has a new bug to deal with. A symbol called the "black dot of death," spread with a series of characters that includes a black emoji dot and a finger emoji pointing left, is crashing phones. It's the latest issue to hit iOS, but the bug also affects platforms like MacOS and WhatsApp on Android.
The bug exploits the Unicode standard that governs emojis and written characters, with the actual message at the center of the exploit packed with thousands of invisible characters. These characters cause the device to slow down as the device tries to process the input. YouTube channel EverythingApplePro notes that the bug originally went viral in India, where WhatsApp users would send a message to each other asking them to tap on the black dot, causing the phone to freeze. Unfortunately, even iPhone users on the latest 11.4 beta version are susceptible to the bug. Benjamin Mayo wrote in a story on 9to5Mac that it "caused my Mac's memory usage to spiral out of control, creating a 30-gigabyte swap file in the process."
It's not the first Unicode bug to hit an Apple device. A bug was found in February that crashed the device immediately when it tried to display two characters from the alphabet of the Indian language Telugu, the issue stemming from Apple's San Francisco font. Apple's implementation of Unicode also led to users running iOS 11.1 struggling to send the letter "I" in November.
Fixing the bug is possible. Force close the iMessage app, then 3D Touch on the app to send a new message and then delete the conversation thread. Another method is to ask Siri to send a new message, then return to the app and delete the conversation from the main screen. Users that have activated iMessages for iCloud may also have luck with using another device to delete the suspect message.
Apple is expected to unveil iOS 12 at the Worldwide Developers Conference on June 4, before a beta-testing period and release in the fall. Prior to this, Apple will likely include a fix for the issue in iOS 11.4, currently in the beta process.
If HomePod improvements and AirPlay 2 aren't enough to convince you to upgrade, maybe a message-app bug fix will work.