SpaceX Launch Livestream: How to Watch Thursday's Falcon 9 Launch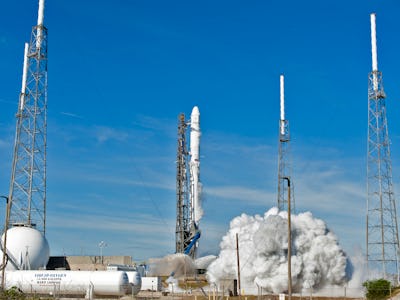 Flickr / NASAKennedy
SpaceX's newly upgraded Falcon 9 rocket is slated to launch from the Kennedy Space Center in Florida on Thursday. The liftoff window is currently scheduled to open at 4:00 p.m. Eastern and close at 6:25 p.m. Eastern. If weather conditions permit and the Falcon 9 performs nominally this will be the aerospace company's ninth successful mission in 2018.
This will be the Falcon 9's maiden launch with its recent Block 5 upgrade, which retrofitted the booster with retractable landing legs, increased its thrust capabilities, and added new heat shields. The improved rocket will be carrying the Bangabandhu-1 communications satellite into geostationary orbit for the Bangladesh Communication Satellite Company.
SpaceX Launch Livestream: When and How to Watch
A livestream of the launch will be available on the SpaceX YouTube channel and NASA TV, which will begin broadcasting an hour to 30 minutes before the launch window opens.
SpaceX Launch Livestream: What Are We Watching, Exactly?
Thursday's launch will test the Block 5 upgrade and will be the first out of seven uncrewed launches SpaceX will need to conduct before the newly improved rocket is determined safe for human transport by NASA. Block 5 was implemented in hopes of enabling rapid and routine reusability of the booster. SpaceX hopes to be able to fly the Falcon 9 10 times with only inspections between launches and up to 100 times with refurbishments.
SpaceX Launch Livestream: Why It Matters
If this flight is a success it would mark Falcon 9's 54th successful launch since its inception. SpaceX also has two other missions scheduled for May meaning the company is well on its way toward achieving its lofty goal of launching every two weeks.