'Avengers: Infinity War' Is the Fastest Movie to Reach $1 Billion Worldwide
That's a lot of sad people.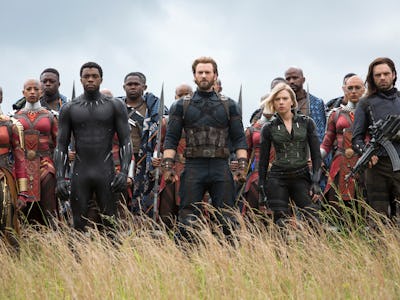 Marvel Entertainment
Every blockbuster movie has a major drop-off at the box office in its second week. In the case of Avengers: Infinity War, its second week still outperforms the debut of other major movies, and it's now the fastest movie to reach $1 billion.
The latest ticket numbers from Box Office Mojo show Infinity War won the box office surprising no one. Marvel's crossover movie took in $112 million in its second weekend, which is more than a 50 percent drop from its opening week. Worldwide, Infinity War surpassed $1 billion in 11 days, creating a new record. Estimated gross for the movie is at $1.16 billion meaning that in just two weeks, it's already surpassed the entire box office run of Captain America: Civil War, The Lord of the Rings: The Return of the King, and Rogue One: A Star Wars Story.
Infinity War already has several records under its belt including the record for biggest opening weekend domestically and internationally. It's competing with Star Wars: The Force Awakens, which is still holds several box office records including the top spot for all-time domestic ticket sales.
Makings its debut in second place is the remake of 1987 comedy Overboard starring Anna Farris and Eugenio Derbez with $14.7 million. A Quiet Place came in at third place with $7.6 million, which makes its fifth week of staying in the top five in ticket sales. Amy Schumer's I Feel Pretty narrowly takes the fourth spot with $4.9 million over Dwayne "The Rock" Johnson's Rampage that had a $4.6 million weekend for fifth place.
Expect more of the same next week since the next contender for Infinity War's crown will likely be Deadpool 2 on May 18 and then Solo: A Star Wars Story on May 25.
After watching Infinity War, fans had plenty of questions about the location of certain characters and what's going to happen in Avengers 4, which comes out next year.