'SNL' Shows the Dangers of Kanye West's Tweets in 'A Kanye Place'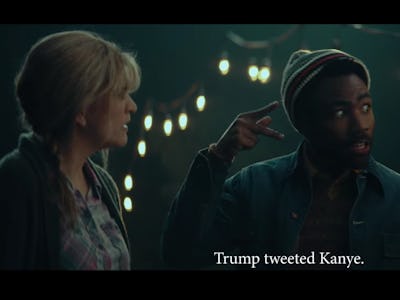 YouTube
Saturday Night Live knocked out two birds with one stone on the latest episode when a short showed what would happen if people had to deal with monsters with super hearing while also trying not to react to the latest news about Kanye West.
Cast members Aidy Bryant, Cecily Strong, Beck Bennet, Kenan Thompson, and host Donald Glover starred in the short that mimicked the look from A Quiet Place on Saturday's episode. Called "A Kanye Place," the group has to stay quiet as they make their way home. Glover, on his phone, whispers to the group that Kanye tweeted about his new "Make America Great Again" hat, which Thompson had to give a loud "Oh come on, Kanye," which caused him to be snatched by the super-hearing monster.
One by one, the rest of the group reacts loudly to Kanye's actions from releasing a new track to going on TMZ talking about slavery and his liposuction, and then falling victim to the monsters.
Kanye made news towards the end of April when he started tweeting about conservative YouTuber Candace Owens. He confused many of his fans and the rest of the public by taking a somewhat conservative viewpoint on social matters as well as posting video clips from Dilbert creator Scott Adams. The confusions ramped up when Kanye showed off his new hat and then appeared on TMZ with a surprising opinion on slavery. There was also the revelation that he was addicted to opioids after he had liposuction surgery in order to avoid the celebrity news outlet from describing him as being fat.
The next SNL host is comedian Amy Schumer. She'll take center stage on May 12 with musical act Kacey Musgraves.
A Quiet Place was a roaring success for a horror movie released in the spring. The nature of the movie also made movie watchers ask the big questions like how long can you hold in a fart.