'A Quiet Place' at the Box Office Is a Groundbreaking Horror Win
Horror wins over nostalgia.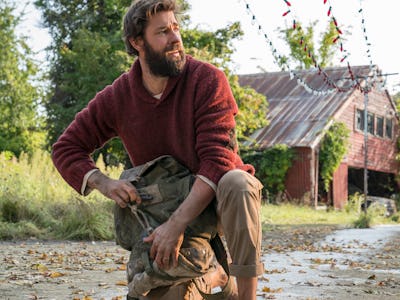 Paramount Pictures
Horror triumphed over nostalgia in the weekend box office as the critically acclaimed film A Quiet Place debuts at the number one spot.
In its first weekend, A Quiet Place brought in $50 million in domestic ticket sales as reported by Box Office Mojo. Critics praised the horror film starring married couple John Krasinksi and Emily Blunt, which earned it a certified fresh rating of 97 percent from Rotten Tomatoes with 178 positive reviews. Horror movies typically release in the fall and winter months, making A Quiet Place's success even more remarkable. It beats Steven Spielberg's Ready Player One, which saw a dip in U.S. ticket sales. The pop culture-filled movie took $25 million over the weekend, but is making a killing internationally with $294 million foreign ticket sales.
Blockers – another film praised by critics with an 83 percent rating on Rotten Tomatoes – debuted in third place. The comedy about parents trying to stop their daughters from losing their virginity on prom night stars Leslie Mann, Ike Barinholtz, and WWE superstar John Cena.
Still hanging around in the top five at the box office is Black Panther at fourth place with $8.4 million. The Marvel superhero movie jumps into the third highest-grossing domestic movie without adjusting for inflation with $665 million ticket sales. It'll likely stay in that spot since number two, Avatar, sits at $760 million. In worldwide gross sales, Black Panther cracked the top 10 at $1.29 billion right behind Star Wars: The Last Jedi ($1.33 billion) and Harry Potter and the Deathly Hallows Part 2 ($1.34 billion). Unlike the other movies in the top 10, the story of T'Challa has a majority of its sales coming from domestic ticket sales. Sticking around in the fifth spot is the religious film I Can Only Imagine based on the song of the same name earning $8.3 million.
Rampage starring Dwayne "The Rock" Johnson is the next major movie to come out when it releases on April 13. The film – based on the 1986 classic arcade game of the same name – will try to crack the top five at the box office.
A Quiet Place screenwriters Scott Beck and Bryan Wood already expressed interest in a sequel to the movie. There are also theories that the movie has ties with the Cloverfield franchise.