America's Craziest McDonald's Doubles Down
The Orlando-fication of a fast-food chain could change everything.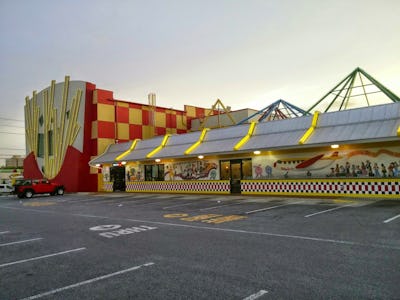 The World's Largest Entertainment McDonald's has been king of the franchises since it opened its oversized doors in 1976. The fry-shaped building is part fast food joint, part roadside attraction, and part entertainment center, which makes it pretty much the perfect distillation of all things Orlando, which is — not at all coincidentally — where it sits. Now, it's getting a bigger, three-story brother as Oerther Foods Inc. breaks ground on a new $71.2 million facility.
The Entertainment McDonald's is both a special case and a bellwether for the chain. Because Orlando is so full of tourists, it makes sense to create a McDonald's that is substantially different than most other franchises in order to help drivers justify pulling over. This logic is easy to understand in the context of the Sunshine State, but it may increasingly apply to other locations, where business is drying up. If McDonald's isn't going to substantively change the food it offers, it may be easier for franchisees to fundamentally alter the experience, which is to say: "Give people a reason to go inside."
Currently, McDonald's is not that different in presentation than Taco Bell or Burger King or most other fast food chains. It is decidedly and intentionally low-rent — as opposed to say T.G.I. Friday's, which invests more in decor and ambience. But companies that offer more comfortable environments, Applebee's would be another example, are generally bar-centric and less than ideal for kids. The market space here is obvious: Give people a place to sit down while their kids run around.
It will be interesting to see if the new Largest Entertainment McDonald's attracts a significant audience because, if it does, we're likely to see similar establishments cropping up outside Orlando.