DEA Condemns Veterinarian Who Horrifically Turned Puppies into Drug Mules
"Dogs are man's best friend and ... we are drug dealers' worst enemy."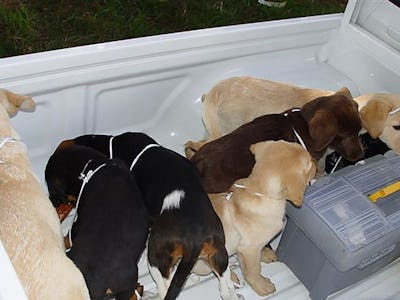 DEA
On Tuesday, a Colombian veterinarian named Andres Lopez Elorez was arraigned in Brooklyn federal court for his role in a gruesome heroin smuggling operation involving a heartbreaking set of victims. When in 2005 the United States Drug Enforcement Administration and Colombian National Police raided a Medellín farm implicated in an international drug trafficking ring, they discovered 10 puppies who appeared to be helpless pawns.
The DEA alleges that Elorez surgically implanted sealed packages of liquid heroin into the puppies so they could be transported on commercial airlines to the U.S., where the drugs would be prepared and distributed. Since his arraignment, at which he pleaded not guilty, he is currently being held without bail for conspiracy to import and distribute narcotics. The DEA, however, has also condemned him for his inhumanity toward pups.
"As alleged in the indictment, Elorez is not only a drug trafficker, he also betrayed a veterinarian's pledge to prevent animal suffering when he used his surgical skills in a cruel scheme to smuggle heroin in the abdomens of puppies," said U.S. attorney Richard Donoghue, according to a Guardian report published Tuesday. "Dogs are man's best friend and, as the defendant is about to learn, we are drug dealers' worst enemy."
International smugglers are known for their bizarre ingenuity, disguising drugs in all sorts of benign packages, including Moon Pies and kidney beans. But this case is an especially emotional one because, well, it involves puppies.
The DEA loves to make a public show of its tough stance on drug crimes, and in this case, the emotional aspect of puppies' involvement makes that easy to do. Authorities say Elorez sewed the packets of liquid heroin solution, which weighed about one pound each, into the belly skin folds of the puppies. It's not clear whether the dogs would survive the extraction upon their arrival, but odds don't seem to be in their favor. In the time after police and DEA officials raided the farm in Medellín, five of the dogs ran away, three died from infections related to the surgeries, and two were adopted. One of them even became a drug-sniffing dog for Colombian police.
Authorities claim Elorez was part of a large drug smuggling operation from September 2004 to January 2005. If convicted, Elorez faces a minimum of 10 years and up to life in prison. Despite the fact that his alleged role in the drug smuggling ring took place over a decade ago, the veterinarian is only appearing in court now because he fled to Spain in 2005 when two dozen other people were arrested for their roles in the operation. He was arrested in 2015 and has fought extradition to the U.S. since then.
In the years since Elorez fled Colombia, reported the New York Times on Tuesday, he'd gotten his life back together and started a family in Spain. It's well-documented that drug mules are sometimes coerced into the service of violent drug cartels and are more often motivated by poverty, though, it's not clear what Elorez's motivation for his alleged crimes was. Regardless, it doesn't seem that U.S. prosecutors will take his life circumstances into account, especially given the emotional nature of the crime. After all, people really love puppies.