The Most Interesting Drug Busts in America
'Microgram Bulletin' has kept chemists and drug users aware of trends for the past 50 years.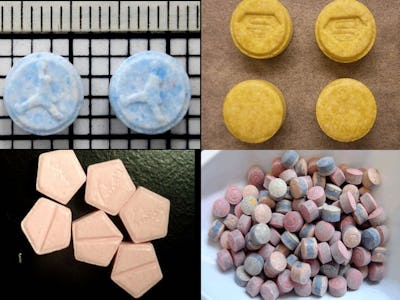 DEA Microgram Bulletin
If you ever get arrested for drug possession, the last thing you might imagine is scientists passing around pictures of your stuff, describing it to each other in detail and poring over the gritty details.
But for nearly five decades, that's exactly what has happened in the United States. Microgram Bulletin, a monthly publication produced by the Drug Enforcement Administration, includes photographs and chemical analyses of drugs seized by various law enforcement officials, as well as information about the situations in which the drugs were seized.
Microgram Bulletin, which has existed since before the DEA, began in 1967 as a typewritten newsletter produced by the Bureau of Drug Abuse Control, the DEA's precursor. The early publications described such things as chemical analysis of PCP, human testing of DMT, and thorough chemical information about LSD (which you can see below). The first issue even contained a humble request for feedback.
"When, and if, the next issue appears depends on reader reaction," wrote the author. "Let us know what you think and give us suggestions for future issues."
From 1967 through 2002, access to Microgram Bulletin was restricted to law enforcement personnel. It was targeted at analytical chemists, since it focused so much on the methods used to analyze illicit drugs. But it also served to alert law enforcement officials to national and regional trends, such as different methods being used to smuggle or ingest drugs.
In 2003, the DEA made Microgram Bulletin accessible to the public. This opened up access to anyone with an internet connection, and while the tone of the newsletter remained cheerfully candid when explaining something like an electric guitar stuffed with cocaine or a child's plush animal purse full of methamphetamine, sensitive details related to ongoing investigations were excluded from the publication.
Unfortunately, in 2013, the DEA returned the publication to law-enforcement-restricted status. Steven Aftergood, who directs the Federation of American Scientists' Project on Government Secrecy, says this change highlights how arbitrary government secrecy policies can be.
"Assuming that the substance and the sensitivity of the publication remained constant over the years, the decision to remove it from public access again just demonstrates the subjectivity of so much of government secrecy policy," he tells Inverse. "Two people looking at the same information will often reach different conclusions about its degree of sensitivity."
He also suspects that the change was likely motivated by an unwillingness to individually vet items in the newsletter for secrecy concerns.
"Restricting access is also the lazy path of least resistance. If the whole publication is designated as restricted, that eliminates the need to review individual articles or statements for possible withholding," he says. "But it also negates the serendipitous benefits of knowledge sharing." (An official at the DEA was unavailable for comment at the time of publication. We will update this story if we receive comment.)
While civilians can't access new issues of Microgram Bulletin, the DEA has left issues from 2003 to 2013 open to the public. We dug through the archives for some of the strangest ways people have been caught smuggling drugs, including the original text from the publication:
Heroin Smuggled as "Moon Pies"
The DEA Northeast Laboratory (New York, New York) recently received 24 individually packaged, chocolate 'moon pies,' four of which appeared to be genuine, and 20 of which instead contained a chocolate covered, wrapped disk of compressed tan powder, suspected heroin (see Photo 5). The exhibits were seized by DEA Strike Force personnel in New York (origin and seizure details sensitive). The disks (3.0 x 0.25 inches) were successively wrapped in black tape, carbon paper, aluminum foil, and green plastic, then coated with chocolate. Analysis of the compressed powder (total net mass 695.0 grams) by FTIR-ATR, GC/MS, GC/FID, and FT-NMR confirmed 67.8 percent heroin hydrochloride, adulterated with thiamine (salt form undetermined, not quantitated). This was the first such submission to the Northeast Laboratory.
Heroin Disguised as Kidney Beans
The DEA South Central Laboratory (Dallas, Texas) recently received a submission of approximately 4972 fake 'kidney beans' (total net mass 3,210 grams), all containing a fine tan powder, suspected heroin (see Photo 10). The 'beans' were actually small plastic packets that had been painted to resemble kidney beans (see Photo 11). A few genuine beans (of a much lighter color) were mixed in with the fakes (see the light brown beans in Photo 11, previous page). The exhibits were seized by DEA Special Agents in El Paso, Texas (no further details). Analysis of the powder by FTIR-ATR, GC/MS, and GC/FID confirmed 90.3% heroin hydrochloride. This was the first such submission to the South Central Laboratory.
Heroin Smuggled in a Functional Computer
The DEA Northeast Laboratory (New York, New York) recently received a laptop computer and its external power supply, both containing concealed packages of beige powder, suspected heroin (see Photos 4 and 5, both displayed oversize to show detail). The exhibits were seized by Immigration and Customs Enforcement personnel from a passenger arriving at Miami's International Airport from a flight originating from Bogota, Colombia. Unusually, the computer was apparently functional, with LED lights and fans operational when turned on. The laptop had four packages, each wrapped in tape and carbon paper, placed in the areas normally occupied by the second internal battery and the CD drive (both of which had been removed). The power supply contained a single, similarly wrapped package. Analysis of the powder (total net mass 520.9 grams) by GC/FID, GC/MS, and FTIR/ATR confirmed 67 percent heroin hydrochloride, adulterated with caffeine and thiamine (adulterants not quantitated). This was the first time the Northeast Laboratory has received a laptop that was apparently functional; however, a second such laptop has since been submitted to the laboratory.
Cocaine Hidden in a Hammock
The Customs and Border Protection Laboratory at Chicago, Illinois recently received an exhibit of a dark brown, somewhat plastic material that had been concealed in the wooden bar of a hammock chair, submitted as a suspected controlled substance (see Photos 7 and 8). The hammock chair was seized by CBP Inspectors at a parcel service shipping hub in Louisville, Kentucky, and had been in transit from Venezuela to Spain (no further details). The substance (total net mass 592 grams) had an appearance similar to opium or black tar heroin, but did not field-test for any common controlled substance. Preliminary screening at the laboratory gave strong positive results with the Mayers and silver nitrate reagents. The sample also gave a red color with Scott's reagent - but the color did not change or extract into chloroform. Analysis by FTIR, GC, GC/MS, and HPLC, however, indicated neither opium alkaloids or heroin but rather 49 percent cocaine hydrochloride, along with methyl benzoate and various other cocaine alkaloids. The cause for the dark brown coloration was not determined; however, the dark color and anomalous behavior with field and laboratory color tests suggests that the substance is a sample of so-called "black cocaine." This is the first submission of black cocaine to the laboratory, and is also believed to be the first seizure of a hammock chair containing a controlled substance at the Louisville shipping hub; however, similar items have been encountered at other CBP facilities.
Cocaine Hidden in Electric Guitars
The DEA Mid-Atlantic Laboratory (Largo, Maryland) recently received two electric guitars with compressed white powders concealed in hollowed-out sections in their bases, suspected cocaine (see Photos 2 and 3). The exhibits originated in Mexico, and were seized at the Baltimore/Washington International Airport by Immigration and Customs Enforcement personnel (no further details). Both guitars appeared to be fully operational (not checked), and neither had obvious seams or any external indications of tampering (that is, the paint and an inner, hard plastic layer were apparently added after the drugs were concealed). Analysis of the powder (total net mass 2,878 grams) with GC, GC/MS, and FTIR confirmed 83 percent cocaine hydrochloride adulterated with diltiazem. This is the first known submission of this concealment method to the Mid-Atlantic Laboratory.
In addition to the 2003 to 2013 archive, the drug information website Erowid also published the first 12 issues, which you can view on their periodicals page. So if you want to dive down a deep rabbit hole of drug smuggling and law enforcement, look no further. But make sure you have a few hours to spare.