Here's How Many People Could Have Gotten High Off Drugs Seized by the Border Patrol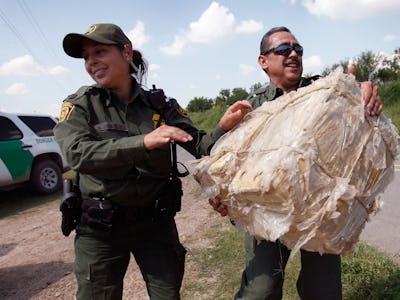 Scott Olson/Getty
A huge number of users had their recreational highs thwarted at the border in 2015, according to a new report from the U.S. Border Patrol.
The country's first line of defense released its latest numbers for major drug busts, tallying up the amount of drugs it apprehended at the nation's coastal, northern, and southwestern borders during the last fiscal year. The data are staggering.
Marijuana users took a big loss last year, with Border Patrol agents seizing 1,538,307 pounds of the drug nationwide. That's a lot of weed — roughly 1.6 billion joints' worth, if you're rolling the typical 0.43-gram joint one White House document from 2014 describes. (An informal user survey conducted by High Times suggests 0.5 to 1 gram per joint, but we're making the assumption that most people are lightweights.) According to that same government report, a "light user" consumes 1.68 joints a day.
Agents at the border also seized 11,200 pounds of cocaine — a huge amount, considering most recreational doses of the drug are measured in milligram amounts. For perspective, last year's total amount of confiscated cocaine comes out to 5,089,306,400 milligrams.
The average coke dose is 120 mg on the high end, according to AddictionBlog.org, so last year's seizures kept 42,410,887 doses from being snorted up American nostrils.
The amount of marijuana seized in 2015 has dropped significantly from last year, when 1,992,545 pounds were picked up at U.S. borders, a trend that's been chalked up to the proliferation of legal weed.
But nearly twice as much cocaine, however, was confiscated this year; last year, only 4,554 pounds were seized at the border, suggesting that drug lords are slacking on security or that the Border Police have since stepped up their game.
Here's the full report: