Snapchat Redesign Will See a Reversal as Friends Come First Again
"That's a big change coming and we think it'll make a difference."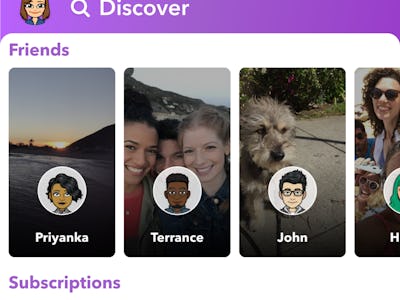 The people behind Snapchat's redesign, namely co-founder and CEO Evan Spiegel, didn't realize that people might hate it, so on Tuesday, he announced a reversal that should please Snapchat users and the investors who are closely watching for signs of user growth and the resulting advertising revenue.
The controversial revamp that was announced in late November was criticized for dividing up content feeds between friends and publishers. Some thought it would help older people get into Snapchat but it primarily upset its very active user base. On Tuesday, Wall Street analysts lightly pressed Spiegel and other Snap executives during the afternoon conference call on the fact that some advertisers had left the platform in the previous quarter. One put it bluntly this way: "What does it take to get those advertisers back?" It's a good question: After Snapchat released its quarterly earnings, stock dropped by 15 percent.
"When there's a lot negative news in the press every day, it does give people pause, it does influence people's buying decisions," said Imran Khan, Snapchat's chief strategy officer. "It's very hard to handicap what percentage, but it does come out in the conversation in the selling the process. But, the way to win is by proving [return on investment]." That return for Snapchat means a slightly altered redesign.
Ahead of the call, Spiegel announced the redesign reversal this way in a letter to shareholders: "We are now focused on optimizing the redesign based on our ongoing experimentation and learning. For example, when we separated friends' Stories from creator Stories, we also moved them to the left side of the camera and merged them into the Chat feed. We learned that combining watching Stories and communicating with friends into the same place made it harder to optimize for both competing behaviors. We are currently rolling out an update to address this." It remains to be seen if users will like that update.
A few times during the call, Spiegel was asked about the all-important metric for any social app — daily average users — and how the redesign affected that number. Each time, he declined to talk about the redesign's impact on DAUs, but near the end of the call offered a little color, saying he was "excited with the progress we're making." Snap reported 191 million daily active users in the first quarter, compared to 187 million at the end of last year. He also described how Snapchat soon will offer a better mix of stories from your friends and publishers: "We can still optimize for watching content on one side of the service and communicating with friends on the other. So that's a big change coming and we think it'll make a difference."
Snapchat Data Reveals Kylie Jenner Tweet Wasn't That Big of a Deal
"We build things that we believe will help us empower people to express themselves, live in the moment, learn about the world, and have fun together," Spiegel said during the call a few times, repeating the company's mission statement. He seemed to be sticking to his guns when asked about the redesign, and it will be interesting to see where Snap is in three months' time during the next quarterly report.