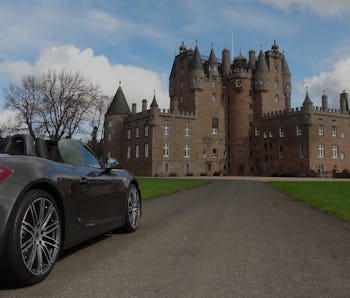 Innovation
Love Self-Driving Cars? You Should Be Obsessed With Scotland Right Now
Flickr / IainCameron
Self-driving cars are zooming into the future, but it may not be the tech hub of Silicon Valley in the driver's seat.
If one Scottish politician has his way, one of the country's craggy islands might soon become the testing ground for a town run entirely on autonomous vehicles.
Ivan McKee, a member of the Scottish Parliament, told the Sunday Herald that he believes the government should pledge one of its 790 islands to test self-driving technology. The Scottish government has already committed to reducing its carbon emissions by 80 percent by 2032, but McKee wants to take this a step further by retrofitting one of its communities with self-driving technology.
"Somebody at some point should make a moonshot statement, at [the] senior government level, that says we're going to take a city or an island and make it self-driving," he said. "Once you've made that statement, it then allows you to start bringing in investment, worldwide, and people who want to be part of it. … If any island came forward and said, 'We want to do this,' they'd become world famous. It would become a tourist thing, like a [themed] island."
McKee suggested using one of Scotland's lightly populated offshore towns to avoid any massive infrastructure overhauls. Places with populations in the hundreds or low thousands, like Gigha or Bute, could make for viable hosts for such a pilot program.
The politician has pledged Scotland's commitment to reduce emissions will go hand-in-hand with a "transport revolution" and autonomous vehicles will be on Scottish roads by 2021. This latest push towards infrastructure like this follows how adamant he's been about the tech.
To pull something like this off, the government will need to build relationships with companies in the self-driving car space. McKee says that there are a handful of domestic firms already working in the industry.
"I've had Scottish companies come to me and say they're already working on this," he said. "They're building sensors for autonomous vehicles, or they're building some other aspect of it, so they're already plugging into a supply chain. We've got stuff here that we need to build upon."
But before talks of collaboration can happen, an island needs to actually volunteer to take on this transformation. This involves convincing locals to change for the sake of testing new technology, which might be a tough sell for those who have been living in certain areas for generations.
However, if McKee's call-to-action does resonate with one of Scotland's hundreds of islands, the country could start on the journey to becoming the autonomous-driving capital of Europe.