Leonardo DiCaprio's New Beetle Namesake is Copying His Coachella Style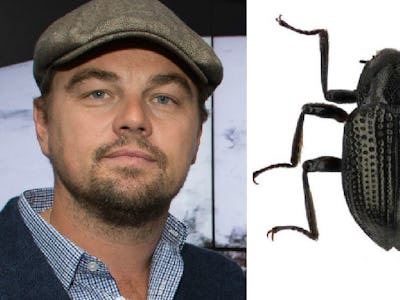 Wikimedia Commons/Taxon Expeditions
Leonardo DiCaprio is an Oscar-winning actor who loves models and loves Coachella. These are facts. It's also true that DiCaprio, from memory, can list off the names of 20 endangered species and has addressed the United Nations, with a man bun, about climate change. It's because of the latter, and his work through the aptly named Leonardo DiCaprio Foundation, that the 43-year old was honored on Monday by citizen scientists in a very specific way: They named a beetle after him.
Both the newly discovered water beetle Grouvellinus leonardociaprioi and its namesake enjoy waterfalls and have links to Malaysia. At three millimeters long, the beetle was found in Borneo's Maliau Basin along with two other newly discovered species of the aquatic beetle genus Grouvellinus champion. The paper, published in the open access journal ZooKeys, explains that the discovery of Little DiCaprio was made by a collaborative team of scientists from Ateneo de Manila University and citizen scientists organized through a Dutch firm called Taxon Expeditions.
"Tiny and black, this new beetle may not win any Oscars for charisma, but in biodiversity conservation, every creature counts," said Taxon Expeditions and entomologist Iva Njunjic, Ph.D., in a statement released Monday.
But it seems as though Njunjic is sort of underselling Tiny Caprio. In the paper, it's described as "black with slight metallic luster" with "moderately protruding" eyes and "unusually large" in size. It's a pretty good-looking beetle, however, and it has the Giluk Falls of the upper Malaiau Basin on lock. In looks, it's not not reminiscent of Big DiCaprio's recent stealth desert party outfit.
And while the female leonardociaprioi has not been found yet, it looks like it could really lean into any romantic situation.
"The new species is named in honor of the Leonardo DiCaprio to acknowledge his inspiring work in promoting environmental awareness and bringing the problem of climate change and biodiversity loss into the spotlight," the bug's discoverers write. "The species name was selected during a naming ceremony at Maliau Basin Studies Center on October 6, 2017, in which expedition participants as well as a large number of field center staff and porters took part."
The people wanted a beetle DiCaprio, and a beetle DiCaprio is what they got. Human DiCaprio, for his part, has been vocal about his environmentalism since the 1990s, and his foundation gave $20 million in grants to more than 100 environmental organizations in 2017. There was that whole Malaysian embezzlement scam in 2016, but it looks like the actor didn't realize that was happening and said he'd return any gifts or donations linked to the very shady state investment fund 1MDB.
It does, however, remain to be seen whether he has embraced his new, tiny namesake. According to The Guardian the Leonardo DiCaprio Foundation has yet to respond to the news.