Leonardo DiCaprio *Finally* Wins Oscar and Warns: "Climate Change Is Real"
DiCaprio can finally cuddle up with his very own bronze statue in a sadly toasty world.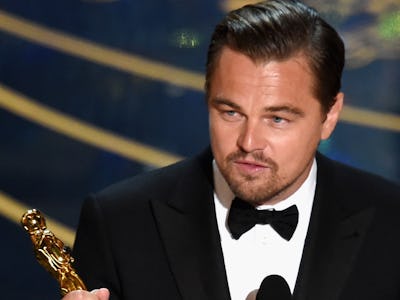 By: Kevin Winter/Getty Images
Poor Leonardo DiCaprio! We all thought if he doesn't win the Oscar for Best Actor this year, he may end up at the bottom of a Beverly Hills swimming pool with pockets filled with giant blood diamonds weighing down his sad corpse!
But alas, tonight, good ol' Leo finally got his statue after five prior nominations, for his role as Hugh Glass in The Revenant. And ever the socially conscious actor, he made sure to plug environmental responsibility and indigenous rights in his speech.
The whole web was nail-biting and tweeting gifs (see below) while Julianne Moore introduced the category's nominees. When she announced DiCaprio was the winner, the room exploded in applause. Sure he didn't crack a smile when the awards featured someone earlier in the show clapping away in a bear costume (a true Oscar highlight). But DiCaprio had more serious things on his mind! He was carefully wording his thankful and cautionary words which we so kindly transcribed below:
"Making The Revenant was about man's relationship with the natural world. A world that we collectively felt in 2015 as the hottest year in recorded history. … Climate change is real, it is happening right now. It is the most urgent threat facing our entire species and we need to work collectively together and stop procrastinating. We need to support leaders around the world who do not speak for the big polluters or the big corporations, but who speak for all of humanity, for the indigenous people of the world and billions and billions of underprivileged people who will be more affected by this. For our children's children and for the people out there whose voices have been drowned out by the politics of greed … let us not take this planet for granted!"
Now enjoy some DiCaprio memes — feel the tension, the anticipation, and finally, the sweet release!