'I'll Be Gone in the Dark' Book on Golden State Killer Is an Essential Read
Why Michelle McNamara's book is a masterclass in true crime.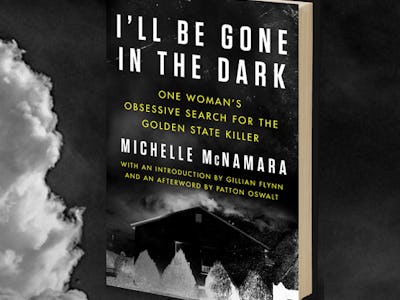 Harper Collins
Authorities in Sacramento on Wednesday announced they had arrested a suspect that they believed to be the Golden State Killer.
Joseph James DeAngelo, 72, was arrested at his home in Citrus Heights on Wednesday morning on two counts of murder. Authorities actually believe he is responsible for many more crimes — the murders of 12 people and at least 45 rapes — believed until 2001 to be two serial criminals: the East Area Rapist in Northern California, and the Original Night Stalker in Southern California. Investigative journalist and true crime writer Michelle McNamara wrote an extensively thorough book on the case, in which she coined the name Golden State Killer. It's been the moniker for the criminal ever since.
McNamara's book, I'll be Gone in the Dark, shot straight to the New York Times bestsellers list when it was released in February of 2018. The author was able to witness its success, however, as McNamara died in her sleep towards the end of writing the book in 2016. She was 46. Her husband, comedian Patton Oswalt, was determined to get the book finished. He enlisted researcher Paul Haynes and journalist Billy Jensen to help complete the book, and it features a forward by author Gillian Flynn and an afterword by Oswalt.
In April, HBO announced it would be developing the book into a documentary series.
The book itself is an exhaustive account of the crimes that were perpetrated by the Golden State Killer, whose string of rapes, murders and hundreds of burglaries occurred between the mid Seventies and Eighties.
McNamara studied autopsy reports, crime files, and interviewed victims and law enforcement connected to the case. "In writing the book, she began to recruit retired homicide detectives and cops from all these different jurisdictions and precincts and cities," Oswalt told Terry Gross on Fresh Air in November. "And she got them to pool information, which is very, very hard to do.
"But her research was so meticulous and so complete that they would contact each other and say, talk to Michelle. She knows. This person is actually not some weird, you know, overenthusiastic amateur. She wants to put the bracelets on this guy, as cop speak for arresting. You put the bracelets on them."
During a press conference in Sacramento Wednesday, authorities said that nothing from McNamara's book led them to DeAngelo, but they did acknowledge that the popularity of her work — prior to the book she had also penned several articles on the killer — contributed to keeping the case in the public eye. "It kept interest and tips coming in," said Sacramento County Sheriff Scott Jones.
Appearing on Late Night with Seth Meyers on Wednesday night, Oswalt said that McNamara would be more than glad to learn that DeAngelo had been apprehended. "She always said, 'I don't care about credit, I want to know that he's in jail,'" Oswalt said. "It's really good news."