EOS Price: How to Buy World's Fifth Largest Cryptocurrency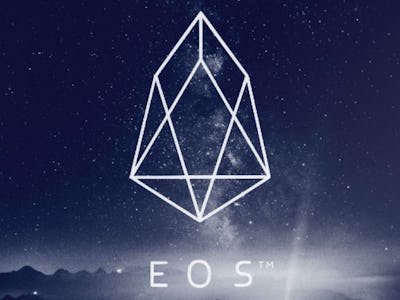 EOS
Cryptocurrencies started 2018 with record numbers, but prices have fallen tremendously in recent months. Bitcoin is slowly rebounding, but there is another cryptocurrency that is leading the pack as its price surged this week. It also represents a possible big change for the future of cryptocurrency.
EOS saw an increase of more than 7 percent in the past 24 hours and a 62 percent jump in the past week as reported by Coindesk. It's outperforming better-known cryptocurrencies such as Bitcoin, Ethereum, and Litecoin. However, unlike other digital currency, EOS coin is technically still in the middle of its ICO.
Block.one is the software company developing a new operating system that makes use of blockchain architecture design in order to create decentralized apps called EOS.IO. The company created the EOS coin, but it's doing something very different. EOS' ICO started last June and will come to an end on June 1 after distributing1 billion EOS tokens, which will change to EOS coins on that day. As of right now, it's tokens that are being exchanged and the increase in interest of the end of the ICO on June 1 is why its price is increasing.
In order to get in on the EOS action, it's a little tricky as Block.one blocked the purchase of tokens to people in the U.S. Those still interested will have to start by getting a wallet such as MetaMask, Exodus, or my EtherWallet. After creating a wallet then it's on to an exchange in order to buy EOS tokens. Binance is an exchange some EOS owners recommend. Then comes an extra step, but an important one. EOS tokens must be registered on the EOS.IO site, and since it's blocked for U.S. citizens, then a VPN is required. This is vital as registered tokens will become EOS coins. This Reddit thread has multiple tutorials and videos to follow for those who need it.
As interest in EOS continues to grow, so should the price. Hacked reported Tuesday that increased interest in the altcoin also stems from a growing number of exchanges and users.
For those that want to stick with the more traditional Bitcoin, experts are still divided on how high the price will go or if It will drop once again.