Cryptocurrency Market Hits $425 Billion, and Experts Say It Could Go Higher
The market is recovering from its three-month slump.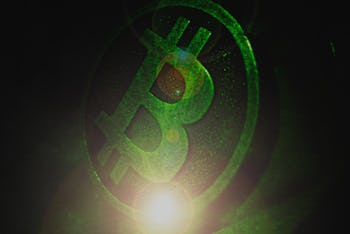 Flickr / btckeychain
The cryptocurrency market is bouncing back from its three-month slide, and experts are positive about its long-term potential. The total market cap of the 100 largest coins reached $425 billion on Tuesday, nearly double its value from the start of the month. Moves from big-money investors, coupled with traditional fans moving back into the market, are contributing to the rising value.
"Word is getting out that traditional financial industry players are preparing to enter the crypto trading markets soon: Goldman Sachs reportedly hired crypto trader Justin Schmidt, Barclays is thought to be planning a crypto trading desk, Reuters reported that at least 56 finance firms will enter the crypto markets by October," Eiland Glover, CEO and co-founder of Kowala, tells Inverse. "The entrance of these firms promises to provide much higher levels of liquidity along with a tsunami of new money into the crypto markets, driving today's prices higher."
The market has had a strong month following its sharp decline. While Bitcoin's price dropped after its high of $19,343 on December 16, the wider cryptocurrency market moved to a market cap peak of $832 billion on January 7 as investors looked into "altcoins" like Ripple and Ethereum, pushing Bitcoin's dominance to just 36 percent. This rise didn't last, as the overall market gradually shed value to reach just $244 billion by April 1. Tuesday's increase in value has been part of a steady rise, coupled with Bitcoin moving past the $9,000 mark while its market share returns to January levels.
"The last month has been extremely promising for the asset class," Josh McIver, CEO of ULedger, tells Inverse. "I think the public catching wind of news that Goldman Sachs and other financial powerhouses are not just showing interest but proactively hiring and investing in the crypto markets is instilling a positive sentiment across the board. Traditionally, these institutions have been ahead of the curve in terms of savvy investment decisions and the public simply wants a piece of that."
Not everyone is convinced that the current surge represents a long-term rise. Wings co-founder Dominik Zynis told Inverse in a story this week that the price of Bitcoin could drop by over three-fourths as part of a diversifying market, with a potential rise to $30,000 predicated on the health of the stock market. Coin IRA CEO Trevor Gerstz has expressed his belief that investors could move their money into cryptocurrency as an alternative to a volatile stock market.
"Rather than saying everything is up, I would say that the volatility continues. Cryptocurrencies and tokens are a very volatile asset class," David Siegel, founder and CEO of The Pillar Project, tells Inverse. "If you want to see prices 20 percent up or down, you usually don't have very long to wait. I do think this is the 'crypto crowd coming back in,' rather than 'institutions dipping their toes in the water.' I think the ball is still in regulator's court to reduce the uncertainty to help us move on in a serious positive way. This could be temporary, but it feels to me like a good level where we can wait and watch for the next big move."
The ultimate test of the cryptocurrency market's future could lie in technologies that make it more valuable in daily transactions. With Bitcoin's Lightning Network set to boost transaction speeds and Bitcoin Cash set to fork in a bid to boost block sizes, it may not be long before the technology improves to enable new use cases and introduce new categories of users.