'Rick and Morty' Named "Best Writing of 2017" By 'Game of Thrones' Creators
They love 'Rick and Morty' as much as you do.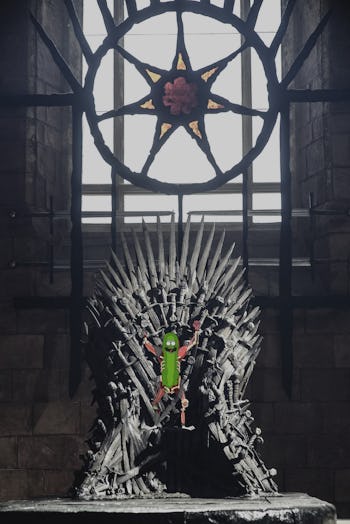 HBO / Adult Swim
Pickle Rick may have just claimed the Iron Throne, because in a new commentary for the Rick and Morty episode "Pickle Rick," the Game of Thrones showrunners agree that the animated sci-fi series has "maybe the best writing of 2017."
On Monday, Entertainment Weekly revealed that Game of Thrones star Peter Dinklage joined showrunners David Benioff and Dan Weiss to record commentary for the *Rick and Morty Season 3 Blu-ray, specifically for the episode "Pickle Rick." Just before the infamous Pickle Rick therapy monologue, Benioff calls the scene "maybe the best writing in 2017" and Weiss says, "the perfect Rick monologue followed by an even better Rick monologue."
In the episode, Rick Sanchez turns himself into a pickle to avoid going to family therapy, and then gets himself into a metaphorical pickle and almost dies. He has to go therapy anyway to get the syrum to turn things back, and there he delivers a monologue that captures the essence of his character. For perspective, here's the scene they talk about.
Perhaps David Benioff and Dan Weiss are just super humble people, or maybe they forgot that their own show's Season 7 also aired in 2017. Together Benioff and Weiss they wrote five of the seven Game of Thrones episodes that aired last year, so does that mean that Rick and Morty is officially a better show? (To be fair, past seasons of Thrones might've had better writing than the penultimate one).
The commentary also includes Dinklage, Benioff, and Weiss breaking down the animated action sequence when Pickle Rick battles Danny Trejo's assassin named Jaguar. "The last episode of Game of Thrones should be a live-action version of Pickle Rick," Weiss jokes.
This whole recording session happened way back in May 2017, as teased by Rick and Morty co-creator Justin Roiland:
As of right now, it looks like they just comment on "Pickle Rick," and who knows what other awesome things they might have to say about Rick and Morty. We'll have to wait and see when the new Blu-ray comes out on May 15.
Rick and Morty Season 3 releases on May 15 on Blu-ray and DVD with a collectors' steelbook cover.