'Super Troopers 2' Cops Crowdfunding, Adulthood for Maybe Another Movie
"What happens this weekend will unlock opportunities."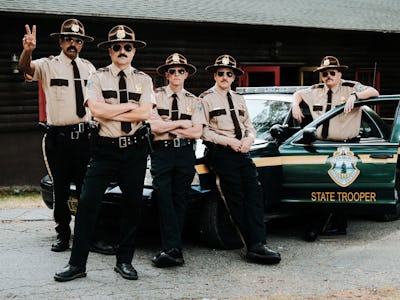 Fox Searchlight
Seventeen years after the first Super Troopers became a comedy classic on DVD, the former Colgate University frat brothers turned comedy filmmakers, a group called Broken Lizard, have returned appropriately on 4/20 to keep the Vermont highways safe from boredom in Super Troopers 2.
It was a long, hard journey from Vermont to Montreal. After years languishing in development, Broken Lizard turned to Indiegogo in 2015 to let their fans, who followed them through other films like Club Dredd (2004), Beerfest (2006), another cult hit, and The Slammin' Salmon (2009), to decide the fate of the sequel. The campaign launched on March 24, 2015, and it was successfully funded 26 hours later.
But things were different when Super Troopers 2 started production months later. On the first film, the goal was to make a funny movie. Now, the goal was to make a funny film that satisfies 54,000 people's expectations that have been built up over a decade and a half.
"We knew we had to please the people who contributed," said longtime Broken Lizard producer Richard Perello at the New York City premiere. "When we made the first it was completely independent. We were young filmmakers learning the process. We had no feedback whatsoever."
"Crowdfunding put it in the hands of the fans," added Kevin Heffernan, who stars in the film as the obnoxious trooper Rodney "Rod" Farva. "It was clear how much they loved the movie and we didn't want to mess it up."
With Super Troopers 2, Perello tells Inverse that they knew what fans wanted, as well as what fans were worried about. "We saw feedback about the bad things about sequels," he said.
"If you make a bad sequel, you ruin two movies," says Jay Chandrasekhar, the film's director who also stars as Arcot "Thorny" Ramathorn. "We wrote a story independent of the first, and went back and painted callbacks, enough the audience can go, 'Oh!' But you don't need to see the first one."
"At the end of the day, the guys were writing what would be funny and what our fans think would be funny," says Perello.
Based on the oeuvre of Broken Lizard — made up of Heffernan, Chandrasekhar, Steve Lemme, Paul Soter, and Erik Stolhanske — you can guess what ex-fraternity boys find funny. But after all these years, they've done some growing up. "I've had kids and that's made me think about the things that come out of my mouth," said Lemme, who plays Mac. "When we're not working, that's when we come up with the best stuff. You have to keep your head clear of distractions and stress. It's hard to write if you're worried about something."
But when the gang is all together, it's a Beta Theta Pi party all over again. "When we get together, we revert to our college days," says Heffernan. "We're more experienced [now] in the filmmaking, angles and lightning, but our comedy has always been the same."
Broken Lizard has one rule in their writing process: "If it makes us laugh, it's in the movie," Heffernan explains.
So crowdfunding worked for Broken Lizard. But Heffernan says that doesn't guarantee Potfest, the proposed sequel for Beerfest, or even Super Troopers 3. What matters is the success or failure of the theatrical release. "What happens this weekend will unlock opportunities," says Stolhanske, "if people show up."
At least there's a name for the next movie. "If we're lucky enough to make a third, I want to set it in winter and call it, Super Troopers 3: Winter Soldiers," says Chandrasekhar. "You gotta give people stuff that's the same, but a little new."
Super Troopers 2 is in theaters now.