Ripple Surges Amid Coinbase Discussions and Bank Trials
The XRP token has jumped in value.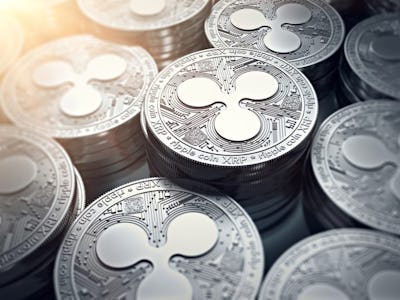 Ripple
Ripple is surging. The third-largest cryptocurrency, with a market cap of $33.4 billion, jumped 17.6 percent in the space of 24 hours on Friday to a price of 85 cents per coin, the fourth-largest gains out of the top 100 cryptocurrencies. The jump comes amid a wider boost in the industry, plus a number of important announcements that suggests big potential for the XRP token.
The jump comes after renewed suggestions that XRP could join wallet and exchange platform Coinbase. Ripple's chief market strategist, Cory Johnson, told CNBC last week that the developers had held discussions with the exchange about future adoption, adding that the token is "absolutely" not a security and does not fall under such regulations. Coinbase, which only supports four cryptocurrencies, has been seen as a key decider in a cryptocurrency's future adoption by investors. A similar announcement last month that Coinbase is evaluating support for ERC20 tokens was also seen as positive news for Ethereum.
The XRP token has jumped in value, but it's a far cry from the January price where it soared to a peak of $3.84 amid an "altcoin" surge. The token launched in 2012 as a method of interbank transfers, and it's gradually picking up steam. However, even the description of XRP as a "cryptocurrency" is in dispute, with communities arguing that because the company has already created all 100 billion XRP tokens and held around 62 percent for itself, it offers a centralized structure compared to systems like Bitcoin where "miners" create new coins.
Centralized or not, XRP's intended use is gaining traction. Beyond Coinbase, XRP has made positive headlines lately thanks to a series of deals that use its technology. Santander announced earlier this month its One Pay FX platform that uses a Ripple-developed system to offer cross-border payments. Moneygram and Western Union have also announced plans to use XRP itself in limited test runs.
Ripple is gaining supporters in the community. Marcus Treacher, global head of strategic accounts for the firm, is set to speak at the TXF Trade & Treasury 2018 conference at the Grand Hotel Krasnapolsky in the Netherlands on May 16, where he's expected to expand on ideas outlined here.
It may hold disputable cryptocurrency status, but XRP is soaring compared to its decentralized peers.