How Students Are Remembering Columbine on National School Walkout Day
April 20 marks 19 years since the massacre.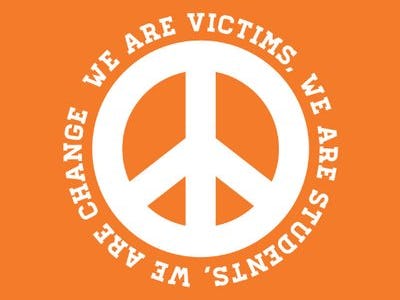 Students across the United States are set to walk out of class on Friday in protest against gun violence in schools. Over 2,600 institutions in all 50 states are participating in the walkout held of the 19th anniversary of the Columbine massacre that saw Eric Harris and Dylan Klebold kill 12 students and one teacher.
The event is the latest in a series of actions intended to put pressure on Congress to introduce legislation to fight the issue, ahead of midterm elections on November 6. Students from Parkland, Florida, sprung into action after 19-year-old gunman Nikolas Cruz killed 17 and injured a further 17 during a massacre at Marjory Stoneman Douglas High School. Around 20 of the survivors founded "Never Again MSD" to organize protests and rallies.
Columbine High School itself has commemorated the anniversary of the massacre every year. The school does not hold classes on April 20, meaning the school won't participate in a walkout. A district spokeswoman speaking to Reuters instead encouraged students to participate in community activities.
Outside of Columbine, students will participate in the walkout through a number of ways. They will walk out of school at 10 a.m. local time, wearing something orange to show solidarity with the official campaign, and take a 13-second silence to mark each of the 13 victims of Columbine.
The event follows the March 14 National School Walkout where students from around 3,000 registered schools walked out at 10 a.m. for 17 minutes to commemorate the lives lost in the Parkland massacre. It also follows the March 24 March for Our Lives event that saw a rally in Washington D.C., protesting alongside 831 affiliated groups. Members of Never Again MSD were involved in organizing both events.
David Hogg, one of the founders of Never Again MSD, expressed his support for Friday's rally to his 768,000 followers on Twitter:
The Columbine massacre sparked a national conversation about gun violence, but nearly 20 years on the issue still plagues schools. The Network for Public Education, a group that advocates for better public schools, claims that over 150,000 students attending K-12 schools have experienced a school shooting since Columbine.
The National School Walkout has organized the April 20 event. It's been set up by four students from Connecticut-based Ridgefield High School. The group has three key goals:
Hold elected officials accountable
Promote solutions to gun violence
Demystify and engage students in the political system
After Friday, the organizers plan a number of actions on their website to continue the pressure. The group will hold a host debrief call on Saturday at 1:30 p.m. Eastern time, followed by a chapter leader call next Wednesday at 8 p.m. Eastern time, where organizers will learn more about how to continue the movement. The organizers are encouraging people in the walkout to tell their friends about the May 19 meetup, on the next steps to "envision a future free from gun violence so that we can start to craft a platform and an agenda together."
"We want every school to host a meeting where you'll discuss the impact gun violence is having in your community, and create a list of what you want the student-led movement to tackle," the group says on its website. "We want you to play a central role in creating the strategy with us."
Those interested in taking part are encouraged to set up a chapter at their school, or text WALKOUT to 64336 to join the SMS mailing list for regular updates.