'Arrow' Finale May Flashback to a Specific, Romantic Season 1 Episode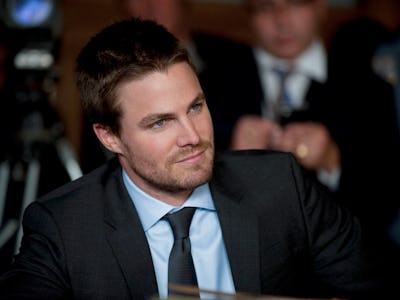 The CW
Shortly after incurring the wrath of Beyonce fans for skipping her performance at Coachella, Arrow star Stephen Amell teased a major flashback to the show's upcoming season finale, airing on May 17.
On Monday, Amell shared a few ominous tweets from the set of Arrow teasing the season finale. In the first tweet, Amell teased his wardrobe, which is lifted from the show's fifth episode on purpose.
"First day filming our season finale," Amell tweeted. "Wearing the exact same wardrobe I wore in episode 105. On purpose." In another tweet, Amell shared an image of himself sitting bedside to an unidentified individual in a hospital, with the caption, "Finales destroy me." Seems someone's time is up in Star City.
In TV terms, "105" refers to "Season 1, Episode 5," which in Arrow's case is the episode "Damaged" where Oliver seeks Laurel's professional — and personal — counsel for the first time since returning to Starling City. It's very unlikely Amell actually means the show's 105th episode, which would be Season 6's "Spectre of the Gun," in which Team Arrow became divided over gun ownership.
In hindsight, "Damaged" isn't a super important episode, but it is significant for putting Oliver back on track with his first love, Laurel Lance. In "Damaged," Oliver is arrested and accused of murder, with Detective Lance accusing Oliver of being "The Hood." Oliver seeks the legal counsel of Lance's daughter, Laurel, which reignites their complicated romantic history. "Damaged" is the first episode Oliver and Laurel kiss since reuniting at the beginning of the series.
Laurel has been dead since Season 4, but actress Katie Cassidy has been starring in the series as the more evil Earth-2 Laurel, who masquerades as Black Siren. So it's not impossible for Arrow to revisit a few key moments in 105 if Cassidy isn't too far from the Vancouver set.
Arrow airs Thursdays at 9 p.m. Eastern on The CW.