Paul Ryan Roasted By Papa Roach on Twitter Over Healthcare
Brutal yet well-deserved.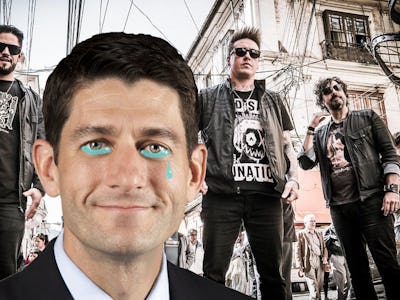 Inverse
Paul Ryan, Speaker of the House of Representatives, announced Wednesday he will not seek re-election in November, marking the first sound decision of his career. In light of the good news, alt-metal band Papa Roach has seized on the opportunity to cut the Republican's life into pieces.
"Heard Paul Ryan is looking for a new gig?" the band posted on Twitter. "We have a Roadie position open — doesn't come with Healthcare though."
This jab is actually more layered than it appears: Papa Roach, patron saint of half-baked teenage angst, first tangoed with Paul Ryan back in March 2017, when false rumors first circulated that Ryan listened to them after one of his attempts to repeal the Affordable Care Act. Writer Justin Halpern tweeted at the time that Ryan was blasting "Last Resort" in his car after being defeated.
Though the suggestion was just a joke, Papa Roach didn't hold back at the opportunity to dunk on a disgraced Ryan:
Now, Papa Roach has zeroed in on the Republican's repugnant views on healthcare, as he has plainly stated healthcare is not a right citizens should be offered "from the government." Among his chief targets is Medicaid, which provides health coverage for 68 million Americans, including elderly people, pregnant women, and low-income folks.
"So Medicaid," Ryan told the National Review's Rich Lowry back in March 2017, "sending it back to the states, capping its growth rate. We've been dreaming of this since I've been around — since you and I were drinking at a keg … I've been thinking about this stuff for a long time. We're on the cusp of doing something we've long believed in."
Color Papa Roach unimpressed by Paul Ryan's childhood dreams of taking healthcare away from poor people.