'Power Rangers' Had an Easter Egg at WrestleMania 34, Green Ranger Says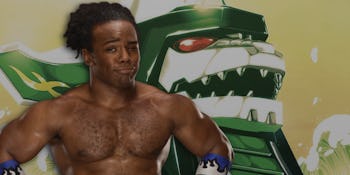 WWE, BOOM! Studios
At WWE WrestleMania 34, the year's biggest pro wrestling event held in New Orleans, there was a mighty unexpected reference to Mighty Morphin Power Rangers. During the entrance for the tag team trio known as the New Day, Xavier Woods played the Green Ranger's summoning music for his robotic war machine, the Dragonzord.
At WrestleMania on Sunday night, the New Day — a wrestling trio made up Xavier Woods, Big E, and Kofi Kingston — competed for the SmackDown Tag Team Championship against the Bludgeon Brothers and reigning champions, the Usos. For their entrance, the New Day came to the ring in grand fashion, surrounded by giant pancakes. (Obsession for breakfast is part of the New Day's identity.) At the center of the stage, Woods blew the Green Ranger's Dragonzord music on his trombone, which summoned a group of little people in pancake costumes who held plates of pancakes they threw into the crowd.
The homage to Mighty Morphin Power Rangers caught the attention of the actual Green Ranger himself, Jason David Frank. Shortly after the match, Frank shared a video of the entrance on his Instagram feed. "Representing, but at wrestlemania!!" wrote Frank, along with the hashtags "#wrestlemania," "#newday," "#xavierwoods," "#summoningthedragonzord," and few more.
The silly entrance is all part of the New Day's image. Originally portrayed as Baptist singers when they debuted in 2014, the New Day reinvented their image with an "anything goes" philosophy. The naturally charismatic Woods, Big E, and Kingston utilized comedic improv and homages to geek pop culture, resulting in some of the most bizarre characters ever seen in the WWE.
Woods himself is a known fan of the Power Rangers franchise; before the New Day, Woods's solo character was billed as hailing from "Angel Grove, California," was trained by the Black Ranger, and shouted "It's morphin' time!" before his finisher move. In 2017, Jason David Frank appeared as a guest on Woods's gaming channel, Up Up Down Down on YouTube. Woods also played the Black Ranger in ismahawk's Power Rangers vs. Voltron.
Unfortunately, channeling TV's coolest Nineties superheroes weren't enough to win at WrestleMania. The New Day were defeated by the Bludgeon Brothers, who were crowned the new SmackDown Tag Team Champions. The rivalry between the New Day, Bludgeon Brothers, and the Usos is expected to continue at the next episode of WWE SmackDown on Tuesday.
WWE SmackDown airs Tuesdays at 8 p.m. Eastern on USA Network.